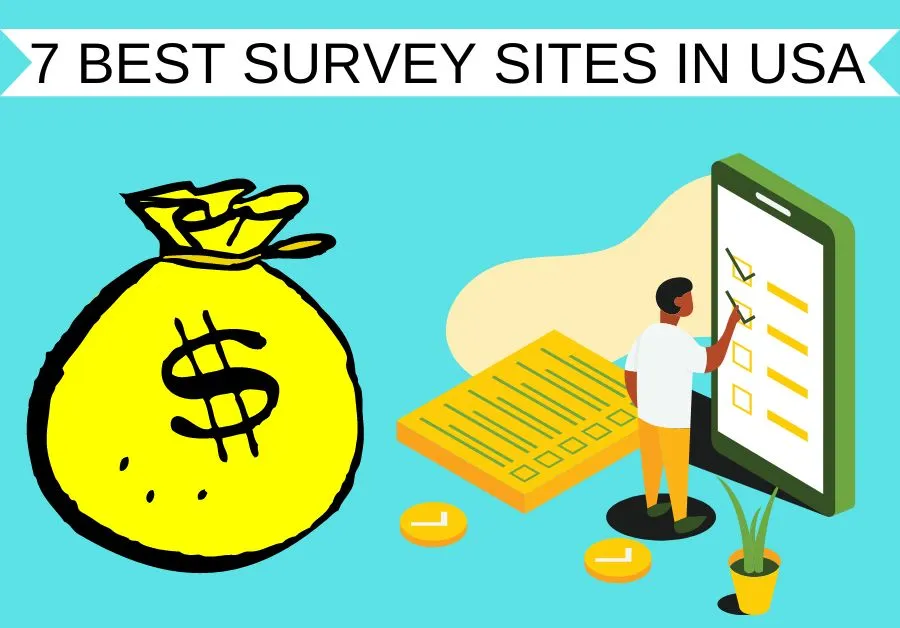 Imagine being able to earn money online by spending just a few hours per day taking online paid surveys. If that sounds appealing, this post lists the 7 best online paid survey sites in the USA. In addition, I'll share with you the best tips and practices to help you make money with online paid surveys.
Over the past three years, I've tried various survey sites to make money online. I've had my fair share of experience with both legitimate survey sites that pay handsomely and scam sites where I wasted time and got paid nothing.
There are many survey sites that promise to pay people for taking online surveys, but not all of them are legitimate or worthwhile. In this article, I'll only mention legit online paid survey sites in the United States that enable you to make money online. So, if you have an extra hour or two to kill, try them all to see which one works best for you.
What are paid survey sites?
Paid survey sites are sites that pay people to answer and complete online surveys. Paid survey sites connect businesses with customers; businesses send out surveys to collect data and customers answer the surveys for money. These paid survey sites work with a variety of businesses and brands who want to enhance their products and services. Most of these businesses are prepared to pay people for providing honest opinions of their goods and services. Businesses value people's opinions because this helps them outperform their competitors. As a result, taking part in online paid surveys gives you the opportunity to make money while providing feedback on the things you are already familiar with.
Find out other ways of making money online: how to make money online for beginners.
What are the best online paid survey sites in the USA?
Answering online paid surveys allows you to earn money online. However, not every survey site can make you money, so understanding which ones are trustworthy is critical. Here are the 7 best online paid survey sites in the United States: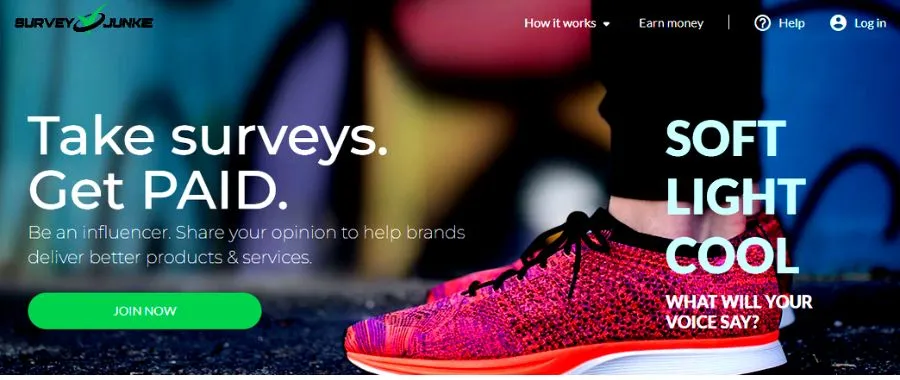 Survey Junkie is one of the most popular survey sites in the United States. You can earn money on Survey Junkie by answering surveys on their website or by doing surveys through the Survey Junkie Google Play or Apple Store mobile applications.
Survey Junkie is a trustworthy survey site that is both easy and fun to use. It's one of the top-rated survey sites that enables users to earn money by taking surveys. This is because people like how simple and convenient it is to use.
Survey Junkie rewards users for answering surveys with points that can later be redeemed for cash or gift cards. Each point is equivalent to $0.01, this means that you need 100 points to make $1 and 1000 points to make $10. The majority of surveys on the platform pay between 40 and 60 points. And it takes 10 to 20 minutes to finish each survey. Simply put, this means that you must do 2 to 3 surveys to earn $1 and 20 to 30 surveys to earn $10.
To cash out, you must first hit a $10 threshold. You can request a payout via PayPal, bank deposit, or gift cards after your balance reaches or exceeds $10.
You won't get rich taking surveys on Survey Junkie, but you can earn a few dollars to help you cover part of your living expenses.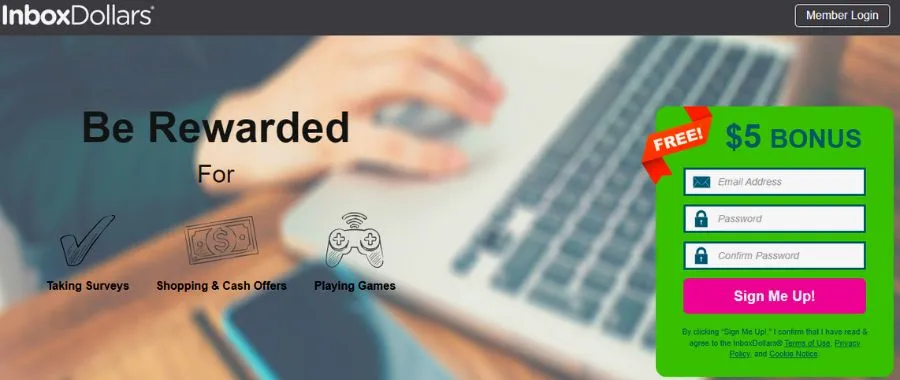 InboxDollars is an online paid survey company that has been in existence since 2000. It is a great website where you can offer your thoughts on various topics and get rewarded for it. InboxDollars is one of the most legitimate survey sites on the internet, and it pays real cash rather than points. InboxDollars also offers a $5 sign-up bonus to new members.
In addition to online paid surveys, InboxDollars pays people for watching videos, playing games, reading emails, searching the web, and offers cashback on shopping.
After you create an account and fill out your profile, available surveys will be displayed on your account dashboard. You'll see how much each survey pays and how long it takes to complete it. The majority of the surveys pay between $0.25 and $5. To withdraw money from InboxDollars, your balance must first reach or exceed the $30 threshold. You can withdraw money from InboxDollars via PayPal, gift cards, or direct checks.
Branded Surveys
Branded Surveys is a well-known online paid survey site that has a good reputation for paying its users on time. This company pays you to take surveys and earn points that can be redeemed for cash. Branded Surveys works with very reputable companies, therefore you should expect high-quality surveys on this website.
Branded Surveys has a high Trustpilot rating of 4.3 and over 55 000 excellent reviews. There are many factors that contribute to this high rating. First and foremost, it is due to the quick payouts. Branded Surveys process payments as soon as the user requests a payout. Additionally, there are many surveys available for consumers to do on Branded Surveys. The surveys are easy to complete, which is another reason why consumers like Branded Surveys.
To cash out, you must reach a minimum of 1000 points, which is equal to $10. Cashout options include Branded Pay, PayPal, and gift cards.
Branded Surveys offers 50 points as a welcome bonus and an additional 50 points for completing the profile. This amounts to 100 points, which is equivalent to $1.
Sign up for Branded Surveys here to get your welcome bonus.
ClearVoice Surveys
ClearVoice allows you to complete quick, easy, fun, and engaging online surveys in exchange for money. This is a paid survey site that has been in operation since 2006. It also has a high Trustpilot rating of 4.7. Therefore, there is no doubt that ClearVoice is a legitimate online paid survey site that pays people for taking surveys.
To cash out, you must accumulate at least $10 in your account. You can reach this amount by answering surveys on the platform, which usually pays between $0.1 and $1. You can request a payout whenever you reach the $10 minimum threshold. Unfortunately, ClearVoice only accepts Amazon gift cards as cashout option. This is a disadvantage when compared to other survey sites, such as Survey Junkie, which provides a variety of cash-out options.
In addition to online paid surveys, ClearVoice offers more other ways to make money online. You can also earn money on ClearVoice by signing up for offers, answering polls, participating in sweepstakes, and inviting friends.
Swagbucks
If you're looking for a completely legitimate site to make money online with little effort, Swagbucks is a great place to start. Swagbucks is an online paid survey site where members can earn money by completing surveys. This firm also aggregates surveys from other survey websites. As a result, Swagbucks offers numerous surveys to complete.
In addition to doing surveys, Swagbucks offers members other ways to make money online. These methods include watching videos, completing daily tasks, playing games, downloading mobile applications, earning cashback on shopping, and many others.
Swagbucks members receive SB points as rewards. Each point is worth one penny, so 100 points amounts to one dollar. These points can be exchanged for money or gift cards. Swagbucks accepts the following payment methods: PayPal, gift cards, and direct checks.
Swagbucks is one of the best survey sites for beginners, this is because they have a lot of surveys, surveys are easy to do, and the surveys pay very handsomely. Create a free account by clicking here.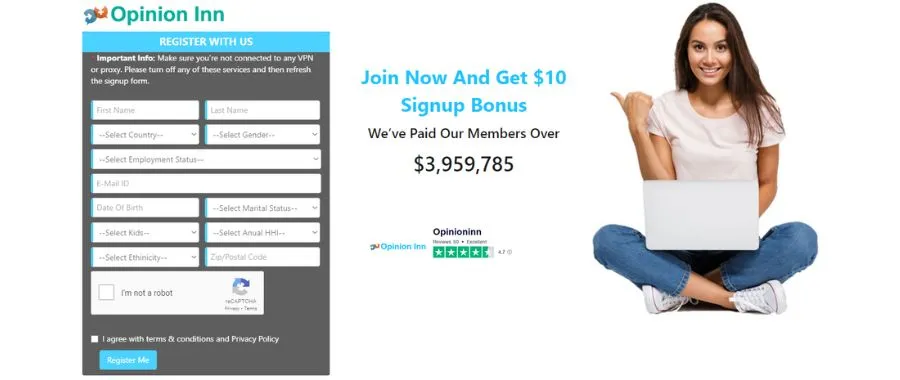 This is most likely the highest-paying survey site on this list. Opinion Inn pays between 25 cents and $20 per survey. However, the most reasonable range is between $1 to $6 per survey. Aside from the excellent remuneration, Opinion Inn also gives you a $10 sign-up bonus.
Opinion Inn provides high-quality surveys, which enables them to pay out quite handsomely. Although their surveys have tight eligibility requirements.
To cash out, you must first reach the $25 payout threshold. This is extremely high when compared to other survey sites. If you are patient, your account balance will eventually reach the $25 requirement. When you hit this threshold, you can either request for gift cards or withdraw your money to PayPal.
Opinion Inn is a legit online paid survey site that compensates people for their opinions on various products and services. This company has been in business for more than five years and primarily serves clients in the United States, the United Kingdom, Canada, and Germany.
YouGov
YouGov is a market research company based in the United Kingdom that was founded in 2000. This is one of the largest survey sites and it is recognized and accredited by a number of media organizations. Despite having its headquarters in London, YouGov is available in a number of countries, including the United States.
YouGov surveys are typically short and pay very decently when compared to other survey sites. For completing surveys, you are rewarded with points that can later be exchanged for cash. YouGov provides a range of payment methods and these payment methods vary by country. The most common payment option is PayPal, but you can also request for a gift card or have the money withdrawn to your bank account.
How to make more money with online paid surveys
We're all aware that taking online paid surveys can earn you money. We also know that surveys don't pay very well. Therefore, here are some tips to help you increase your earnings from online paid surveys:
Only sign up for legitimate and well-paying survey sites.
Make sure to complete your profiles and answer the welcome surveys.
Try out several survey sites rather than relying on a single survey site.
Answer surveys as soon as you get them.
Maintain consistency in your responses to prevent being screened out.
Take as many surveys as you can.
Use your time wisely.
Are paid surveys worth it?
While it is possible to earn money by taking paid surveys, it is important to determine whether paid surveys are worth your time. This question will elicit different responses from different people. Consider these parameters while deciding whether online paid surveys are worthwhile.
According to a Nerdwallet study, you may earn anywhere from $0.41 and $2.03 per hour answering online paid surveys.
Answering paid surveys is easy and can be done anywhere, such as while waiting in line or on a bus.
Taking surveys is a repetitive and time-consuming activity.
It may take time to reach the minimum payout threshold.
Sometimes you get eliminated from the survey while doing it.
Taking surveys can be a fun way to pass time.
Red flags to help spot survey site scams
Knowing how to spot frauds when looking for the best online paid survey sites is quite beneficial and time-saving. There are some red flags that can help us identify scams. A survey site may be a scam if it:
Guarantees to pay out large sums of money.
Is asking for a deposit to join.
Is collecting too much personal information, such as bank account details.
Seems outdated.
Lacks contact information and an about page.
Complicates the payout process.
Sets extremely high payout thresholds.
Has a lot of bad reviews.
Is quite new, and there is no enough information about it on the internet.
Final thoughts: 7 Best online paid survey sites in the USA
In the past three years, I've tried out a number of survey sites. The survey sites I've mentioned above are among the best sites to take online paid surveys. All the survey sites listed are legitimate and are among the best-paying survey sites in the United States. I recommend signing up for all of them to see which one works best for you.
In my opinion, taking online paid surveys is a good way to make money in your spare time and it takes very little effort. However, it's time-consuming to make money through surveys. Therefore, if you want to learn other ways of making money online, check out this guide on how to make money online for beginners.