There are a number of things a beginner can do to make money online, however, not all online side hustles are beginner-friendly. To make money online, you need to have either skills or money. You may not have either of the two as a beginner. Because of this, I will show you the 7 best transcription jobs for beginners. These jobs are suitable for beginners because they do not require any money or skills to start. Anyone with a computer and internet access can do this type of work to make money online.
Since 2019 I have worked with a number of transcription sites, giving me first-hand experience with these sites. You will find legitimate and worthwhile transcription job sites in this post. In addition, I will share some tips to help you succeed at transcription jobs.
You may also like:
How To Become A Transcriptionist In 2023 (No Experience Needed)
What are transcription jobs?
Transcription is simply the conversion of speech to text. Therefore, transcription jobs are jobs that pay people to convert spoken words into text. People who do transcription work are called transcriptionists or transcribers. Transcribers carefully listen to audio files and then type what they hear word for word. Audio files can be recorded speeches, phone calls, Zoom calls, meetings, interviews, and so on.
Transcribers are in high demand as video and audio consumption grows. As a result, you will always be able to find work as a transcriber.
If you think transcription jobs aren't for you, have a look at these other ways to make money online for beginners.
What is required to get started?
Is it necessary to have money or expertise to work as a transcriber? Certainly not. However, there are a few things you need to increase your chances of success. To begin, you must have a computer and internet access. The majority of transcription jobs can only be done on a computer. This is due to the fact that some transcription sites use software tools that can only be used on a computer. Another thing that you absolutely need is internet access. To access work on these transcription job sites, you must have a good internet connection.
Furthermore, understanding the fundamental requirements of the transcription site you wish to work for is critical. Before applying for any transcription job, make sure you read and understand the job specifications. This is important because each transcription site has different guidelines on how to do the work. Understanding how each site operates can help you get your account approved faster and make things a lot easier for you.
How much do transcribers make?
Making money online will always be a wonderful idea because you can work from anywhere at any time of the day. Furthermore, the amount of money you can make working online is flexible. You can make as much or as little depending on the hours you put in.
Transcribers are paid per audio minute transcribed. Simply put, you be paid for every minute of audio or video you transcribe. The pay ranges from 25 cents to 1.25 dollars per audio minute transcribed. On average, it takes five hours to transcribe one hour of audio. Here is a table showing the expected time it takes to transcribe audio files for both beginners and pros. The table also shows how much money can be made.
| | | | |
| --- | --- | --- | --- |
| Audio length | Time for pros | Time for beginners | Income potential |
| 1-minute | 4 minutes | 8 minutes | $0.25 – $1.25 |
| 5-minute | 20 minutes | 40 minutes | $1.25 – $6.25 |
| 10-minute | 40 minutes | 80 minutes | $2.25 – $12.5 |
| 30-minute | 2 hours | 4 hours | $7.5 – $37.5 |
| 1-hour | 4 hours | 8 hours | $15 – $75 |
Take note that these numbers are just averages, the actual amount of time you'd spend transcribing and the money you'd earn varies depending on various factors. These factors may include, audio quality, internet speed, experience level, and the pay rate per minute.
7 best transcription jobs for beginners
If you've never done transcription before and want to make money as a transcriber, here are seven beginner-friendly sites where you can get started.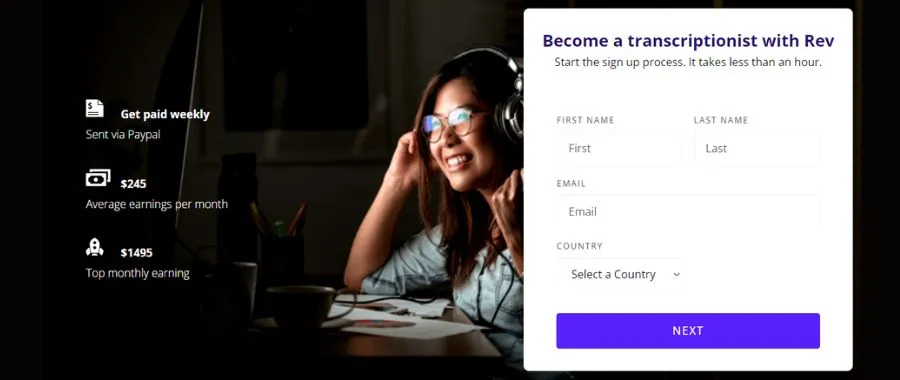 Rev is one of the best websites where you can find transcription jobs. You do not need any experience or qualifications to work on this site. To start working as a transcriber on Rev, you only need to pass a grammar quiz and the Rev transcription test.
Working as a transcriber for Rev gives you the flexibility to work as much or as little as you like. Projects are displayed on the dashboard; you choose which audio file to work on and when to work on it.
Rev is an extremely beginner-friendly site to work for as a transcriber. The Rev AI tool automatically transcribes audio files; all you have to do is edit out the mistakes. To produce high-quality work, you must read and understand the Rev transcription guidelines.
Here is what to expect if you decide to work on Rev as a transcriber:
Pay per minute ranges from $0.30 to $1.10.
PayPal payments
Weekly payments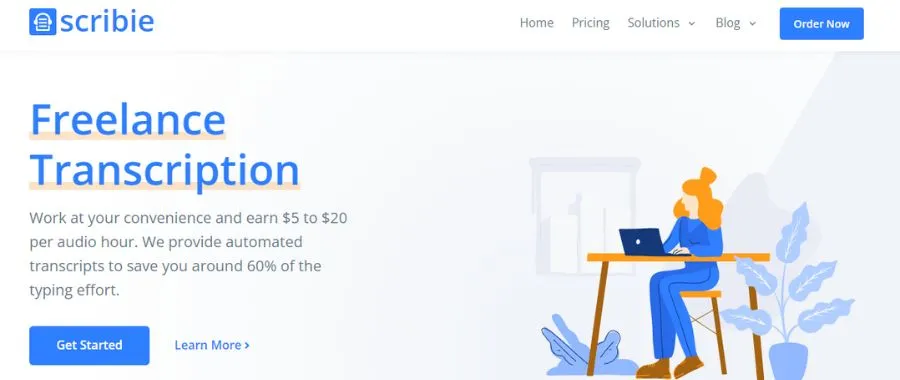 Scribie has been in business since 2008 and has paid out over $3 million to transcribers. This is one of the best transcription jobs for beginners because the Scribie AI technology does 60% of the transcription work.
When recruiting transcribers, Scribie does not require any qualifications or experience. As a result, even novices can apply to work as transcribers on Scribie. However, in order to work on Scribie, you must possess the following:
Verified PayPal account
Laptop/desktop computer
Internet access
Good grasp of the English language.
Here's what you can expect if you work on Scribie:
Pay rate: $5-$20/hour
Payment methods: PayPal
No monthly withdrawal limits
Payments can be requested at any time.
Audio files of less than 6 minutes in length
Do you want to make an extra $100 per month? Why not give GoTranscript a shot? On GoTranscript, people make an average of $150 a month doing transcription work. You don't need any special skills or certifications to join GoTranscript and start earning money.
GoTranscript is an excellent way for beginners to start earning money online. The work on this site is beginner-friendly, although passing their transcription test is slightly difficult. But if you go through their transcription guidelines and understand them, you should be able to pass the test.
If you decide to work on GoTranscript, here's what to anticipate:
Pay rate: $0.6/min
Weekly payments
Payment methods: PayPal and Payoneer

TranscribeMe is one of the highest-paying transcription job sites. Top earners can make up to $2200 per month. Furthermore, TranscribeMe's transcribing process is slightly easier compared to other transcription job sites. The audio files are divided into 2-4 minute audio chunks, making it incredibly simple to begin and finish projects.
TranscribeMe has a lot of educational resources for beginners. Make sure that you go through these resources before submitting your application. Even though TranscribeMe does not require any qualification or experience, they require that you read and understand their transcription guidelines.
Here is what to expect on TranscribeMe:
Pay rate: $15-$22/hour
PayPal payments
Weekly payments
$10 withdrawal limit
Check out our TranscribeMe review
Way With Words is a legitimate transcription job site that has been in operation since 2002. This company is constantly on the lookout for freelancers to work with. They pay between $0.45 and $1.73 for each minute of audio transcribed.
Are you wondering whether Way With Words hires beginners? Yes they do, you can be hired whether you have never transcribed before. You only need to submit an application and take their evaluation test. If your application is approved, you will be trained on how to transcribe on Way With Words.
Here's what you can expect if you decide to work on Way With Words:
Pay rates range from $0.45 to $1.73 per minute.
PayPal payments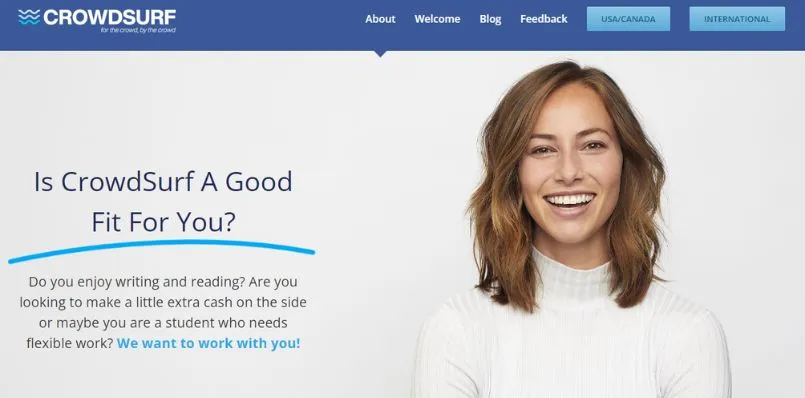 Crowd Surf is continuously looking for transcribers. It's an excellent place for beginners to get started with transcription work. At first, you will only be allowed to work on basic, low-paying tasks; however, as time goes on, you will be able to work on higher-paying projects.
Anyone can work on Crowd Surf as long as they can speak, read, and write English. All you need to do is create and verify your Crowd Surf account. After that, you must take and pass the assessment test to start working on Crowd Surf.
Here is what to expect if decide to work on Crowd Surf:
Pay rates range from $0.03 to $0.20 per audio minute.
5–30 second short audio clips
Payment options: bank deposit and PayPal.
Casting Words allows you to make money online by converting speech to text. Besides transcription work, Casting Words offers a lot of other money-earning opportunities.
There are no ongoing commitments to work on Casting Words. You have the option of working as much or as little as you wish. The pay rate per minute starts at 8.5 cents, but you can make as much as one dollar per minute. Casting Words pays via PayPal, so you must have an active PayPal account to be paid.
Read our CastingWords review.
Are transcription jobs worth it?
Short answer: Without any doubt, transcription jobs are worthwhile.
In 2019, I tried many times to make money through transcription jobs and if I was asked this question back then, the answer would definitely be no. However, Today in August 2022, my opinion about transcription jobs is totally different. This is because I now understand how to make money with transcription jobs. In 2019 my focus was only to make money, I didn't mind whether the work I was putting out was good or bad, and this resulted in my work being rejected most of the time. To make money with transcription job sites, you have to make sure that you understand the transcription guidelines of each site. And do not expect to succeed immediately, because this will lead to doing low-quality work. Transcription jobs are definitely worth your time if you do them correctly.
Do you want to make money by simply taking online surveys? Find out the best online paid survey sites here.
Final thoughts on best transcription jobs for beginners
There are thousands of people making money through transcription jobs and you can become one of them too. This post guides you through the 7 best transcription jobs for beginners.
I put up this post to help you make money with transcription jobs. What do you think, will you consider trying out any of these sites? Share your thoughts in the comments section below.