There are numerous websites that claim to pay people to take online surveys. However, the majority of these sites are simply scams that waste people's time and, in some cases, money. Is Survey Junkie safe? Or it is just one of the many fake sites. In this post, we'll look at whether Survey Junkie is safe and whether it's worth your time.
Are you interested in other ways to make money online? Check out our guide on how to make 1000 dollars a month.
What is Survey Junkie?
Survey Junkie is a website that offers paid surveys to its members. This company conducts market research on behalf of other businesses. Survey Junkie works with a number of brands that are looking for data to help them better their products and services. It has been offering paid surveys and conducting market research for over a decade, making it one of the most trustworthy survey sites.
People can sign up to Survey Junkie to participate in paid surveys. Each survey is worth a certain number of points. Before taking the survey, you may see how many points each survey is worth and how long each survey takes. The points are credited to the user's account once the survey is done. Once you have acquired at least 500 points, you can exchange them for cash or gift cards.
How it works
Making money on Survey Junkie is pretty straightforward. Here are four steps to get started.
Sign up
Join Survey Junkie absolutely for free by pressing the join now button when you visit Survey Junkie. After joining Survey Junkie and confirming your email address, you must complete your profiles. Survey Junkie collects various data through these profiles to ensure that they only provide you with surveys that you'd be interested in. Furthermore, this helps Survey Junkie match brands with targeted people to participate in their surveys.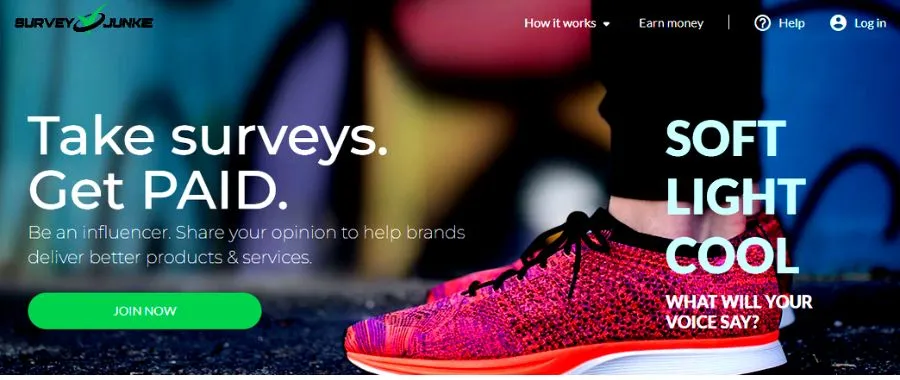 Take surveys
Once you've completed your profiles, you'll be able to access available surveys on your account dashboard. Before doing the survey, you will see how many points each survey is worth and how long it will take to finish it. You must complete each survey once you begin to be paid, and most surveys take between 10 and 30 minutes to complete.
Earn points
Survey Junkie rewards users with virtual points for taking surveys. Each point is worth one cent, so 100 points equals one dollar, and 1000 points equals ten dollars. The majority of surveys are worth between 40 and 100 points. However, you may have surveys that pay up to 400 points.
Get paid
Survey Junkie allows you to redeem your points and withdraw money to your PayPal or bank account. The minimum withdrawal amount is $5, so you need to accumulate at least 500 points to cash out. In addition to PayPal and bank accounts, you can redeem your points for gift cards. Survey Junkie allows you to redeem your points for the following gift cards:
Amazon
Target
Walmart
Sephora
Starbucks
Visa
iTunes
How much money can I make on Survey Junkie?
Are you wondering how much money you may make on Survey Junkie? It all comes down to how much time you're willing to devote to answering surveys; if you put in more time, you may expect to make more money. Taking surveys on Survey Junkie is easy and straightforward, however, don't expect to make crazy money.
Because most of the Survey Junkie surveys pay between 50 cents and one dollar, earning $30 to $75 a month is feasible. This is only possible if you take every survey you get. Making $30 to $75 per month may not sound like much, but that is all you can expect to make from online paid surveys.
Best Survey Junkie alternatives
If you want to make more money with online paid survey sites, you should join several survey sites. This is necessary because if you only use one platform, you may not always have surveys available or qualify for every survey you take. Join at least 3 to 5 survey sites to ensure a steady flow of surveys. Here are the best Survey Junkie alternatives:
Branded Surveys
Toluna Surveys
Swagbucks
Mturk
For more Survey Junkie Alternatives, check out this guide.
Is Survey Junkie Safe?
Survey Junkie is a safe survey site that pays users to take online surveys. It is a reputable website that has an amazing rating of 4.3 and over 38 000 excellent reviews on Trustpilot. Survey Junkie has been around for over ten years, making it one of the most established and reputable survey sites.
If you're wondering whether you'll get paid for surveys you complete, Survey Junkie is trusted by over 10 million users worldwide. Survey Junkie will pay you for every penny you earn by taking surveys on their platform as long as you reach the withdrawal threshold. If you are still doubting, Survey Junkie pays out about $40,000 + daily and has paid out over 25 million dollars to its members in total.
If you're wondering if your personal information is safe with Survey Junkie, the answer is yes. Survey Junkie is a secure-encrypted website, which means that all of your personal information is safe from scammers. Furthermore, Survey Junkie will only use your information to provide you with better and more surveys in the future.
Is Survey Junkie worth it?
The answer to this question is dependent on a variety of things. For some, it is well worth it; for others, it may be a complete waste of time. Let's use Mike's experiment to help us determine whether Survey Junkie is worth it or not. Mike decided to dedicate three hours to answering surveys on Survey Junkie. During those three hours, he did nothing but try to take as many surveys as possible.
Here is the outcome: Mike earned $6.03 after completing several surveys in three hours. That works out to about $2 per hour. However, this does not guarantee that you will make $2 per hour taking surveys on Survey Junkie, but it is tenable. Watch Mike's YouTube video to learn how he made $6.03 in three hours on Survey Junkie.
Making money with surveys is tedious; you'll start a survey, answer a few qualification questions, and then get screened out after a few minutes. You will have to answer the same qualification questions repeatedly, which is annoying. Furthermore, it takes some time to reach the withdrawal threshold. As a result, most people will not find Survey Junkie worthwhile.
However, if you are a student or simply searching for a means to make a few extra dollars, then taking surveys on Survey Junkie is worthwhile.
Conclusion
Is Survey Junkie safe? Yes, Survey Junkie is a legitimate survey site from which you can earn money by taking surveys. This post answers this question in-depth and helps you determine whether Survey Junkie is worthwhile.
What are your thoughts on Survey Junkie, have you tried out other survey sites? Please share your experience in the comment section below.