What would it be like to make $1000 a month? I suppose it would be fantastic. Making 1000 dollars per month online may appear difficult, but it is feasible. This post will show you 7 legit ways to make $1,000 or more every month.
An extra 1000 dollars per month may seem little, but it can help you cover some of your bills. Or you can put it towards your savings.
But here's the rub: it's difficult to find money-making opportunities online. This is because there are numerous get-rich-quick schemes on the internet that just waste people's time and, in some cases, money. Does this mean you can't make money online? Certainly not. If you devote some time to specific online side hustles, you can easily make $1000 or more every month.
How to make $1000 a month
There are a lot of people who earn thousands, if not millions of dollars online. How do they do it, you may be wondering. The truth is that there are most likely over a hundred different ways to make money online. To make 1000 dollars every month, though, you only need to concentrate on a few proven methods. Below are seven legit ways to make $1,000 per month.
Teaching Online
You can earn 1000 dollars a month by sharing your knowledge online. There are numerous websites that pay people to teach online. This is an easy way to earn money online because you don't need additional expertise to teach online. If you're wondering what to teach? You can teach almost anything, but the best place to start is with what you already know.
Languages, academic disciplines, personal development, marketing, finance, software programs, programming, and fitness are some of the most popular things to teach online.
One of the simplest and most common things to teach online is languages. If you are fluent in English or other international languages, here are some websites that pay to teach languages.
Preply is a language-focused online e-learning platform. You can apply to be a tutor on this website if you want to teach languages. Preply supports a wide range of languages, including English, Spanish, French, Chinese, Arabic, and many others. Preply compensation rates range from $15 to $22 per hour.
This is an English learning platform from China. This company was formed with the intention to assist Chinese children in learning English. VIPKids now has over a million students from all over the world. Tutors who teach on this site are paid anything between $14 and $22 per hour.
This is an excellent platform for making money simply by chatting with others. Cambly is always on the lookout for English native speakers to teach English on the platform through one-on-one interactions. When it comes to hiring, this website does not require any qualifications or experience. Cambly pays between $10 to $12 per hour.
Engoo is similar to other English teaching platforms in the way it operates. However, this company is the ideal alternative for non-native English speakers because anyone may apply to teach English on this platform.
If teaching languages is not for you, you can make money online by teaching other subjects. You can teach your skills to others in the form of courses. This is a great way to make money since you only create the course once and keep generating revenue from it for months. You can use the following websites to launch your online course:
Skillshare
Udemy
Thinkific
Teachable
Edx
Writing
Because everything on the internet revolves around writing, the ability to write is a hugely profitable skill. Anything you can think of on the internet necessitates some form of writing. As a result, if you enjoy writing, you should think about monetizing your writing skill.
Here are some ideas for making 1000 dollars per month through writing:
Writing blogs for others
Freelance writing
Helping students with assignments
Writing product reviews
Publishing content on Medium
Copywriting
Self-publishing kindle books
Starting a blog
These are just a few of the many methods to make money online by writing. You may be wondering where to look for work, here are a few websites where you can find online paid writing work:
Texbroker
Writeraccess
Crowd Content
Bustle
Fiverr
Freelancer
ProBlogger
Contena
Skyword
Video Editing
Because video editing is a technical skill, not everyone is willing to learn it. Therefore, if you're a skilled video editor, you can easily earn $1000 or more every month editing videos. Don't worry if you've never edited before and want to make money with video editing; it's not difficult. Even if you've never done it before, it only takes a week to learn the fundamentals.
To generate money with video editing, you must apply for freelance video editing projects. Here are a few websites where you can look for video editing work:
Upwork
Freelancer
People Per Hour
Fiverr
Even while it is feasible to earn money using freelancing websites, finding work is difficult, especially if it's your first time. This is due to competition and a lack of a portfolio with which to promote your work. As a result, if you're just starting out, it's far better to contact content creators directly. However, you must demonstrate that you can produce good videos. You can even offer to edit a single video for free, and if they enjoy it, you can negotiate a cost for further videos.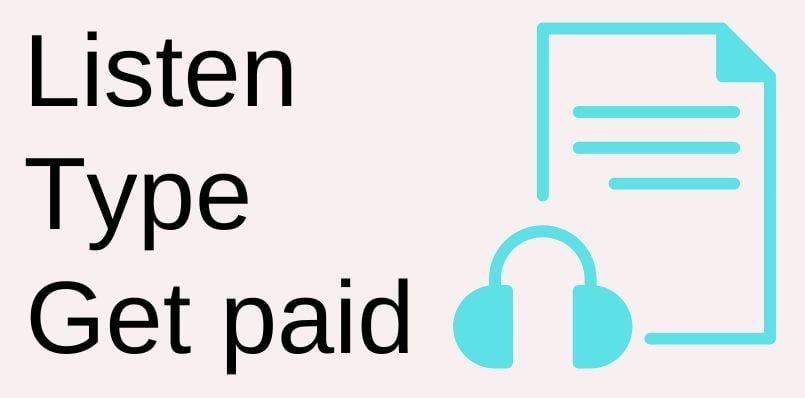 Transcription is converting speech to text. Because of the growth in the number of video creators and podcasters, there is a good demand for transcriptionists. This is arguably the easiest way to make 1000 a month on this list. This is because all you have to do is closely listen to what is being said and type it out word for word.
A transcriber's job entails turning audio into text. It may be transcribing YouTube videos, podcasts, or audio recordings of phone calls, Zoom calls, meetings, interviews, or other events.
There are numerous websites that pay to do transcription work; here are a few to consider:
Follow this article on the best transcription jobs for beginners to learn more about transcription jobs.
Blogging
Blogging gives you the chance to build something for yourself. Unlike other online revenue sources, having a blog allows you to create a long-term income stream. Furthermore, a blog's income potential is boundless; you can scale a blog to the point where it is generating thousands if not millions of dollars every month.
Making a thousand dollars through a blog is very feasible, but it will take some time. With other internet revenue streams, it's possible to make 1000 dollars in the first month. However, with blogging, you need at least 6 months of consistent publishing to attain that earning potential. But here's the good news: a blog is the best passive income source. Once your site has reached a monthly income of 1000, you can continue to make this amount of money for months or even years without doing anything. Isn't that incredible?
There are many ways to generate money with a blog, but to make a thousand dollars per month, you only need to focus on two: Google AdSense and Affiliate marketing. You primarily need to write two kinds of blog posts: "best" blog posts for affiliate revenue and "how-to" guides for ad revenue.
To get started with blogging, you'll need a domain name and hosting. Once you have these, you must create a WordPress website. You don't need to spend a lot of money on hosting at the start of your blog. I recommend using Hostinger for hosting at first because it is cheap and simple to use. Hostinger also provides a free domain name if you purchase their hosting plan, which costs no more than $3. Try Hostinger.
YouTube Channel
YouTube, like blogging, can be a terrific way to earn passive income. If you want to generate at least a thousand dollars each month, having a YouTube channel is an excellent way to do so. Actually, you can make far more than 1000 dollars per month through YouTube.
There are numerous ways to monetize a YouTube channel, but the most common way is to monetize your channel with Google AdSense. YouTube will pay you to place ads on your videos. To be eligible for Google AdSense monetization, you must have at least 1000 subscribers and 4000 hours of watch time.
Affiliate marketing is another excellent way to make money on YouTube. This is a great approach because you can start making money right away. However, in order to make money with affiliate marketing on YouTube, you must first establish trust with your audience.
How to get started
It's quite easy to get started on YouTube; all you need to do is create a YouTube channel using your Gmail account. You then need to upload a profile picture and a YouTube channel banner to customize your channel.
Once your channel is set up, you should begin making videos and posting them to YouTube. To grow faster on YouTube, make sure to create videos within the same niche. This aids in attracting a targeted audience to your channel. Consistent uploading is another important component in accelerating YouTube channel growth.
You should manage your YouTube channel and conduct keyword research using programs like Tubebuddy and vidIQ. These tools will help you save time and grow your YouTube channel faster.
Check out these YouTube channels for more information on how to get started and grow on YouTube: Think Media, vidIQ, Channel Makers, Film Booth, and YouTube Creators.
Affiliate Marketing
Affiliate marketing is the practice of promoting products in order to generate sales and earn commissions. So here's how affiliate marketing works: you find a product or service and recommend it to others; if someone purchases something using your special tracking link, you get paid.
Affiliate marketing works effectively if you have a following on social media sites or have a website/YouTube Channel. This is not to say that you can't make money with affiliate marketing if you don't have an audience. Even if you don't have an audience, there are numerous ways to earn 1000 dollars or more each month with affiliate marketing. Here are a few examples:
Using Q&A websites and forums to promote affiliate links. Quora and Reddit are the most popular Q&A websites. However, when promoting affiliate links on such websites, be careful not to spam others. Your answers must provide genuine value.
Using TikTok, Pinterest, and other social media platforms. You can market your affiliate links on social media even if you don't have a large following. TikTok and Pinterest are ideal for affiliate marketing because they can generate a lot of traffic to affiliate links.
Using PPC Marketing to send traffic to your affiliate links. PPC stands for pay-per-click, so you pay for each person who clicks on your ads with the goal of making a sale. If you want quick results, consider PPC marketing.
Posting on Medium is another alternative for folks without a website to promote affiliate links. Medium allows you to publish blogs for free on the site.
Check out this Shopfy guide for an in-depth breakdown of affiliate marketing.
Final thoughts: How to make $1000 a month
Let's be honest, sometimes all you need is a little extra cash to get through the month. For most people, an extra 1000 dollars can really go a long way. It might help pay some of the bills, pay off debt, save for a vacation, or even help someone start investing.
Making $1000 a month online may appear difficult, but it is very feasible. This post lists 7 legit ways to earn 1,000 dollars or more per month. Choose one or two areas where you believe you can do better and give it a shot; it never hurts to try.
What is your primary reason for trying to earn $1,000 per month? Let us know in the comments section below.
Check out our post on the best online paid survey sites if you want to make some quick, easy money using surveys.