Are you excited about making money online with zero effort?
In this SMS Profit review, you will find out whether this app is a good option for earning money passively.
As a long-term user, I'll share my firsthand experience and cover everything from its legitimacy and payment methods to providing payment proof. I'll also explain how the app works and suggest similar apps worth considering.
You may also like reading the following:
McMoney Review (2023) | Here's How Much I Earned In 30 Days
Let's dive deep into the review to discover whether this app is a good opportunity for you.
SMS Profit Review: Overview
SMS Profit is an easy-to-use passive income app that rewards users for receiving text messages. You only need to download the app, register your phone number, and start earning money for each message received. You can withdraw your earnings once you reach a minimum threshold of $2.
SMS Profit is an Android-based mobile application you can download by visiting their website.
SMS Profit works worldwide, so anyone with an Android phone can download it to earn money by receiving text messages.
Is SMS Profit a Scam?
SMS Profit is not a scam. It is a legitimate mobile app that pays to receive text messages. Even though there are many reviews online indicating that SMS Profit is a scam, it is not.
I have been using this app for almost a year now and understand why some people might doubt its legitimacy. Let me share my personal experience to clarify why SMS Profit is not a scam.
From September 2022 until now in June 2023, I have been consistently paid for all the text messages I've received. However, there was a point where I doubted the app's legitimacy. My withdrawal request remained pending for over two months without payment.
From September last year to date, I have earned over 26 dollars using the SMS Profit app by simply receiving text messages.
I have been paid three times. It was the third withdrawal request that almost led me to believe that SMS Profit was a scam. And I almost deleted the mobile app.
The first withdrawal request I made was around $6.82, and I got paid within one hour.
The second payment was around $2.42, however, took almost a month to be processed, which made me start doubting the app.
In April 2023, when my balance reached around $10, I decided to request another payout. Unfortunately, it took over 2 months without any payment. At this point, I considered deleting the app. However, before doing so, I reached out to SMS Profit customer support. Surprisingly, they responded to my email within minutes and explained that they were experiencing issues with the PayPal payout option. They returned the funds to my account and suggested withdrawing through Bitcoin instead.
So I immediately made a withdrawal request of $17.24 to my Bitcoin wallet address. Surprisingly, I received this payment within an hour of making the request.
In total, I have earned approximately $26.48 and have received every cent of it.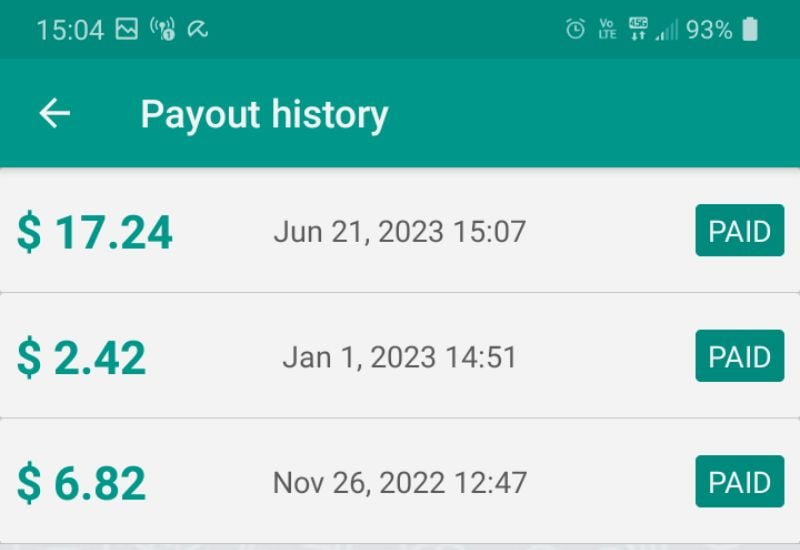 Based on my experience and numerous payment proof available online, SMS Profit is undoubtedly a legitimate passive income app. Also, you can check out this Reddit thread to read about other users' experiences with the SMS Profit app.
Is SMS Profit Legit?
Yes, SMS Profit is a safe mobile app. For nearly a year that I have had this app on my phone, I haven't had any issues in terms of security.
Before downloading the app, it's important to note that SMS Profit requires access to certain information on your phone. This includes reading your text messages and potentially having access to your contact list. If you feel uncomfortable with such data exposure for a minimal monetary gain, it's best to refrain from downloading the app. However, if you don't mind, like me, then you can go ahead and give it a try.
Does SMS Profit pay?
Yes, SMS Profit pays. You will get paid for every single text message you receive, and once your balance is at least $2, you can request payment through PayPal or Bitcoin.
Note that there have been complaints where SMS Profit suddenly stopped paying some users after some time. I experienced this when my payout request was pending for over two months. Upon contacting support, I realized that they were only having issues with their payment processors, so I had to change the payment method and request the payout again to get paid. So if you are having payment issues try reaching out to customer support.
Without a doubt, the SMS Profit app does pay.
How much does SMS Profit pay?
SMS Profit pays around $0.02 for every text message you receive. On average, you can expect to receive around six texts daily. Therefore, you can earn approximately $0.12 per day or $3.60 per month.
Additionally, when registering an account for the first time, SMS Profit will pay you a $0.50 welcome bonus.
Note that this mobile app does not work offline, so you need to stay connected to the internet to receive more texts and earn more money. Don't worry the app works in the background and does not consume much internet data.
Because the app depends on the connectivity to the internet to work, your earnings will vary from day to day. For instance, there were days I received up to 20 texts and earned 40 cents. Yet there were days I received non and made nothing.
To request payment, you must earn at least $2. You can easily accumulate this amount within a month.
How Much I Made Using SMS Profit
After two months of having the SMS Profit app on my phone, I made around $6.82. I requested a payout which got processed within minutes. When I saw the money in my PayPal account, I was very excited because I had just made 7 dollars for absolutely doing nothing.
It took another month to earn around $2.42, and since I needed the money, I withdrew it immediately. Unfortunately, this payment took almost a month to be processed, but I did receive the money in my PayPal account. It is just that SMS Profit was having issues with the PayPal payout option.
The most recent payment I received from SMS Profit was approximately $17.24, which was processed swiftly through Bitcoin. I received the funds within minutes of requesting the payout.
Overall, I have earned around $26.48 using SMS Profit to date, and I can confidently say that every single cent has been paid to me.
SMS Profit payment proof
I have received three payments from SMS Profit. The initial two payments were directly transferred to my PayPal account, while the most recent payment was processed via Bitcoin.
Here are screenshots showing the transactions.
The first payment was $6.82.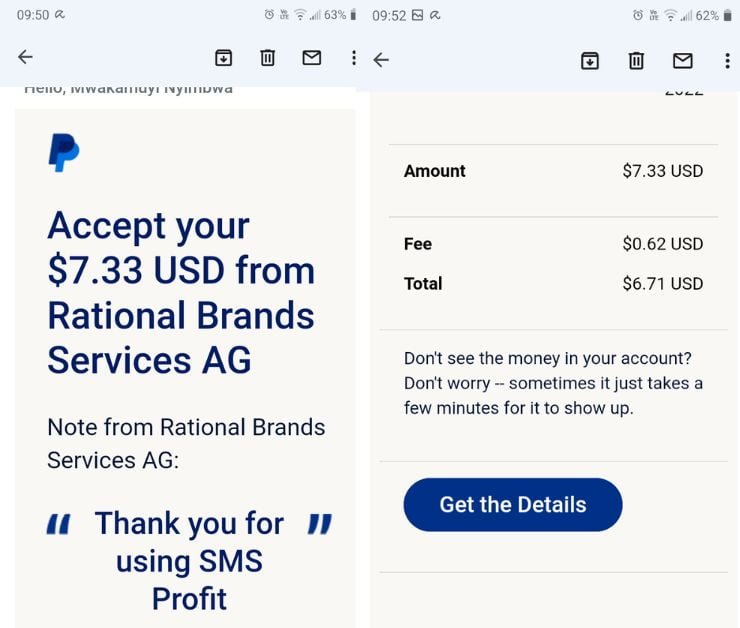 The second payment was $2.82.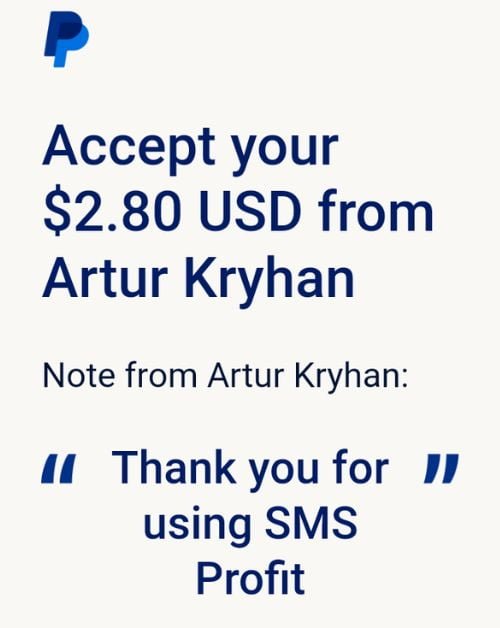 The third payment was $17.42.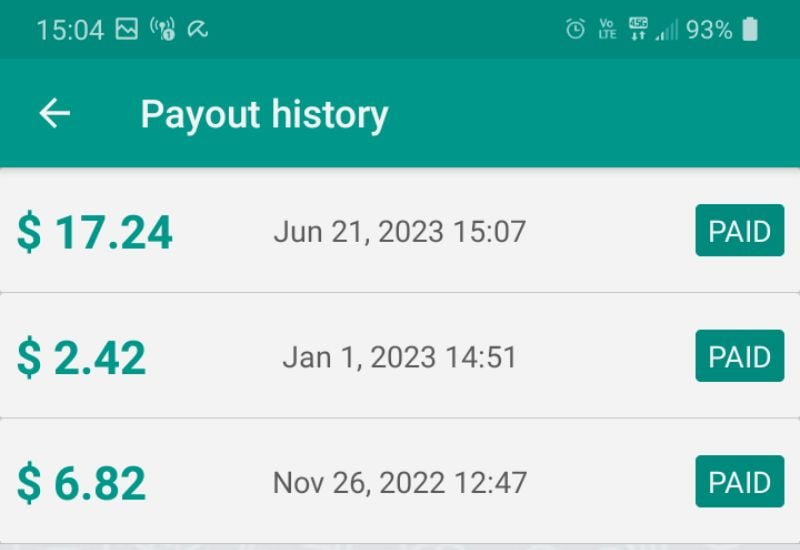 Additionally, there is plenty of proof online that SMS Profit pays.
Note that SMS Profit is a legit app that pays for receiving texts. However, you may experience payment issues such as delayed payments.
How do you get paid?
You will get paid through PayPal or Bitcoin. So you must have either a PayPal account or a Bitcoin wallet to receive your earnings.
How does the SMS Profit app work?
If you are interested in earning money with SMS Profit and want to learn how it works, below is a step-by-step guide on how it works. You can also watch the video below.
1. Download the mobile app
Visit the SMS Profit website to download the mobile app. Unfortunately, SMS Profit is not on Play Store, so you must download it as an APK file and install it on your phone.
Also, note that the SMS Profit mobile app is only available on Android, so only Android users can take advantage of this opportunity.
2. Register an account
Open the SMS Profit mobile application and sign up by providing your email address and phone number. It's a quick and straightforward process. Once you've entered your details, you'll need to verify your email address and phone number to start using SMS Profit.
Upon verifying your phone number, you will receive a $0.50 welcome bonus. So you only need to earn an extra $1.50 to request a payment.
3. Stay connected to the internet
To ensure the SMS Profit app functions properly, it is essential to maintain an internet connection. The app exclusively operates when you are online and does not function offline. With SMS Profit running in the background, there's no need for active engagement on your part. Simply stay connected to the internet to receive text messages seamlessly.
If you find that you're not receiving any text messages, it's advisable to verify that your mobile device is active and connected to the internet.
4. Receive test text messages
You will start receiving text messages upon opening an account and letting the mobile app run.
5. Get paid
Earn money for every single message you receive. Your balance gets credited every time you receive a text message. Request a withdrawal once you have reached the minimum withdrawal amount.
SMS Profit Contact
SMS Profit has excellent and helpful customer support that will respond to your queries within 24 hours.
You can contact the SMS Profit customer support only via email: support@smsprofit.net
SMS Profit Review: Pros & Cons
Let's compare the pros and cons of using SMS Profit to make money online.
The pros of using SMS Profit
A passive way to earn money online
It is legit
The app is easy to install & use
Pays through PayPal & Bitcoin
Works worldwide
Free to join
Pays better than most receive SMS earning opportunities
The cons of using SMS Profit
Pay rates are low
Sometimes payments take longer
Only works online
The app may have access to personal data on your phone
Receiving constant meaningless messages may be annoying
SMS Profit App Reviews
Are you curious about what others think of SMS Profit? Let's find out.
SMS Profit has an average Trustpilot rating of 3.2/5. There is a combination of positive and negative reviews. Most people like the fact that SMS Profit does pay. On the other hand, the most common thing people dislike about the app is the low pay rate and sometimes payments take longer to be processed.
Here are some positive reviews by users who have used the app.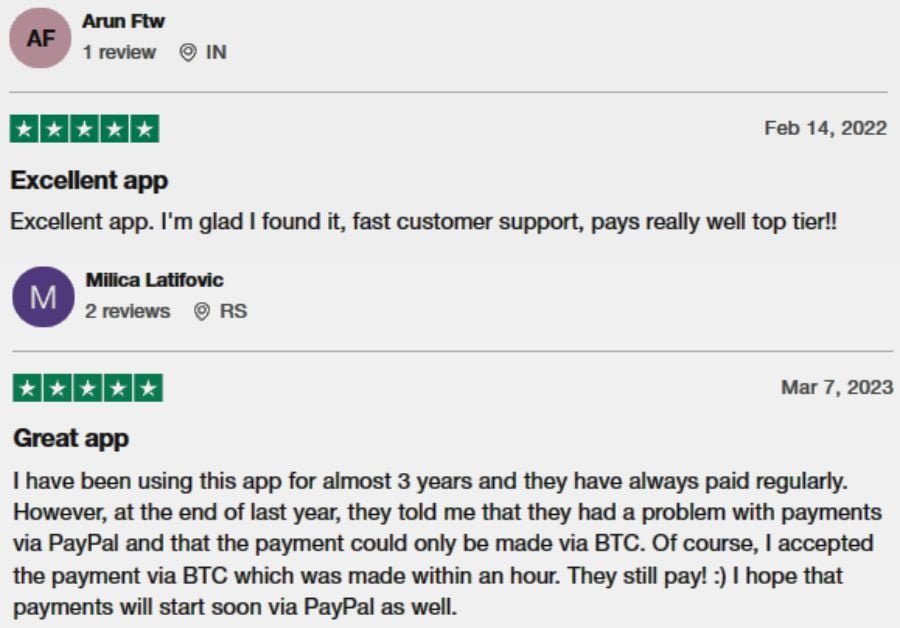 And here are some negative reviews.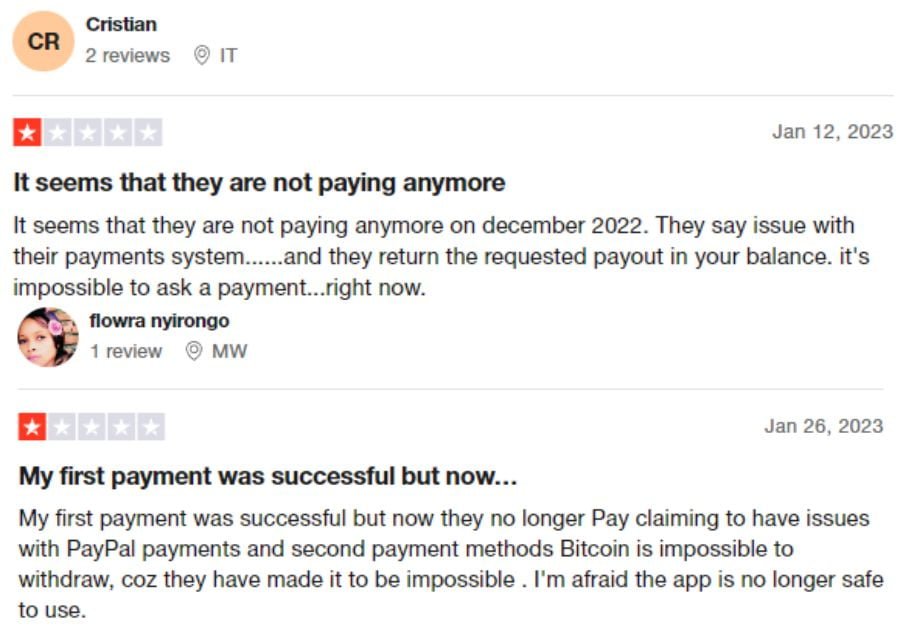 You can also find several SMS Profit app reviews and payment proof on FoxyRating.
SMS Profit not paying, what do I do?
If you're facing difficulties withdrawing money from SMS Profit, it's likely due to payment processing issues that the app occasionally encounters. In such cases, it's important to remain patient as your payment will eventually be processed.
I experienced a similar situation where I believed SMS Profit had stopped paying and assumed it was another scam app when my payment remained pending for nearly three months. Moreover, whenever I attempted to request another payment, I would get logged out of my account.
However, what I didn't realize at the time was that the PayPal payout option was temporarily unavailable. To resolve the issue, I decided to contact SMS Profit support for assistance. They informed me about the problem with the PayPal payout option and promptly canceled the pending transaction. Instead, I made a withdrawal request through Bitcoin, and to my surprise, I received payment within one hour.
So if you think your payment has been delayed, reach out to the SMS Profit support to find out what is going on.
SMS Profit similar apps
It is often good to have more than one passive income app earning you money in the background. And since most of these apps pay very little, it is good to use all the available apps to maximize your earnings. Here are the best alternatives to SMS Profit.
McMoney is not very different from SMS Profit. It is also a passive income app that pays users to receive text messages. This app pays anywhere between $0.50 to $2 per month. McMoney pays through PayPal.
It also has a referral program, where users are paid $0.26 for every qualified user they invite.
I have used this app for over a year, and here is my McMoney Referral code: 4XRUQRAT if you are interested. You will receive a bonus upon using this code.
Read our full McMoney review here.
2. Money SMS
Money SMS is an Android-based mobile app that allows users to make money automatically by receiving text messages.
This app pays €0.02 per text message, and users can request payment once they have earned at least €2. Money SMS pays through PayPal, Bitcoin, and Litecoin.
Money SMS also has a referral program that pays 30% of the earnings of the people you invite. If you are interested in this app, here is the Money SMS referral code: 70BBJ45W. You will receive a €0.25 sign-up bonus upon using this code.
3. Google Opinion Rewards
Google Opinion Rewards is another good alternative to make a few dollars monthly. It involves answering 30-second short surveys. The surveys are about Google products. You may be asked about what you think about a YouTube video you recently watched, or how you paid for the items you bought at the supper market.
SMS Profit Review: Final Thoughts
In conclusion, SMS Profit is a legitimate Android mobile app that pays for receiving text messages. It operates worldwide, making it accessible to anyone seeking to earn money passively.
Having used SMS Profit for nearly a year, I can confidently say it's a reliable mobile app that rewards users with no effort. However, it's important to note that SMS Profit shouldn't be seen as a means to get rich quickly. The earnings are low, typically ranging between $2 and $4 per month.
Overall, SMS Profit presents a viable opportunity to earn money online without investment. I recommend trying the app and seeing if it is a good fit for you.
What are your thoughts on SMS Profit? Additionally, if you're aware of any other passive income mobile apps, feel free to share your questions and insights in the comment section below.