Do you know it's possible to make money online by absolutely doing nothing? In case you didn't know, there are mobile apps that will pay you just to receive text messages. McMoney is one of those mobile apps. This McMoney review will show you how the McMoney mobile app works and will help you decide whether it's worthwhile.
Recently I also reviewed a similar app called SMS Profit, it also pays to receive text messages. Make sure to check out my SMS Profit review as well.
What is McMoney?
McMoney is a legit mobile app that pays people to receive text messages. It is owned by CM.com, a communication and payment solutions platform. CM.com is an established company founded in 1999. This Netherlands-based firm is a global leader in cloud software for conversational commerce that enables businesses to provide a better customer experience.
McMoney claims to work with a number of mobile operators to improve communication systems. McMoney is paid by these mobile operators to test and improve these text messaging systems. McMoney shares a portion of its revenue with people who sign up to receive test text messages.
How to use McMoney app
The McMoney app is extremely simple to use; there is literally nothing you need to do. Here's how it works:
To get started, download and install the McMoney mobile app on your phone. The app is available for download from the McMoney website. I hate being the bearer of bad news, but the mobile app only works on android phones.
To begin earning money on McMoney, you must first register and verify your phone number. Once your mobile number has been successfully added to the mobile app, you will start earning money every time you receive a text message. Messages are usually random and you can delete them whenever you wish. On some days you may receive several messages, while on others you may receive non.
That's all there is to it; simply wait until you reach the minimum cash-out amount to withdraw your earnings to your PayPal account.
McMoney referral code (2023)
McMoney offers a referral program, so you will receive a small signup bonus if you sign up using the referral code below.
McMoney Referral code: 4XRUQRAT
In addition to making money by receiving text messages on the app, the McMoney referral program allows you to earn money as well. You will earn $0.26 for every active user who signs up using your referral code. You can find your unique referral code, which you can share with others, by clicking on referral, as shown below.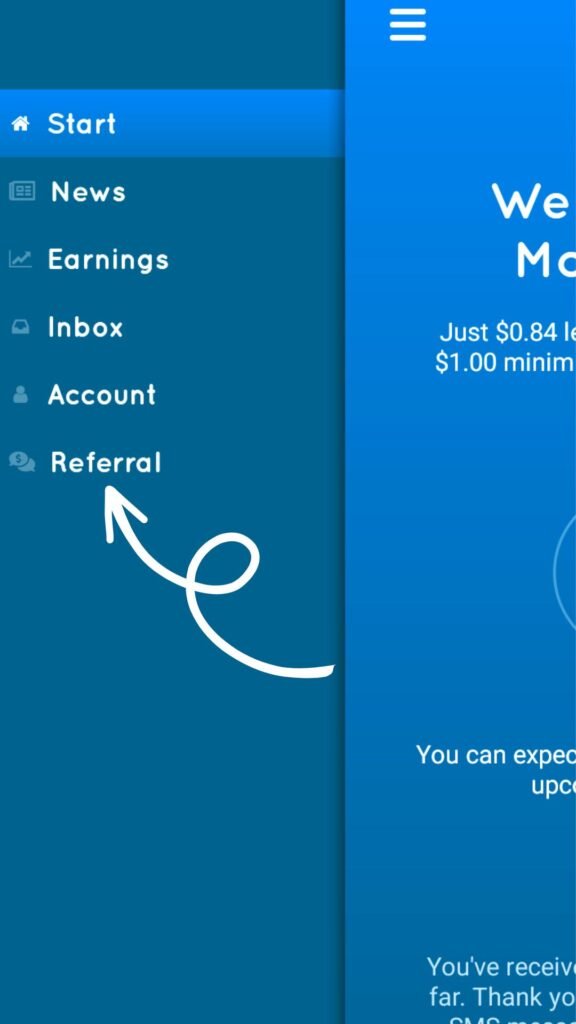 How much does McMoney pay?
McMoney pays anywhere between $0.013 to $0.06 for every message you receive. The amount you will earn per message depends on your country. People may be able to earn more money in some countries, while in other countries it might not be much.
Once you have earned at least $1, you will be able to withdraw the funds to your PayPal account.
How much I earned
I run a case study to see how much money one can make per month with McMoney. To ensure that the results were accurate, I decided to run this experiment for two months. During this time, I earned approximately $4.10.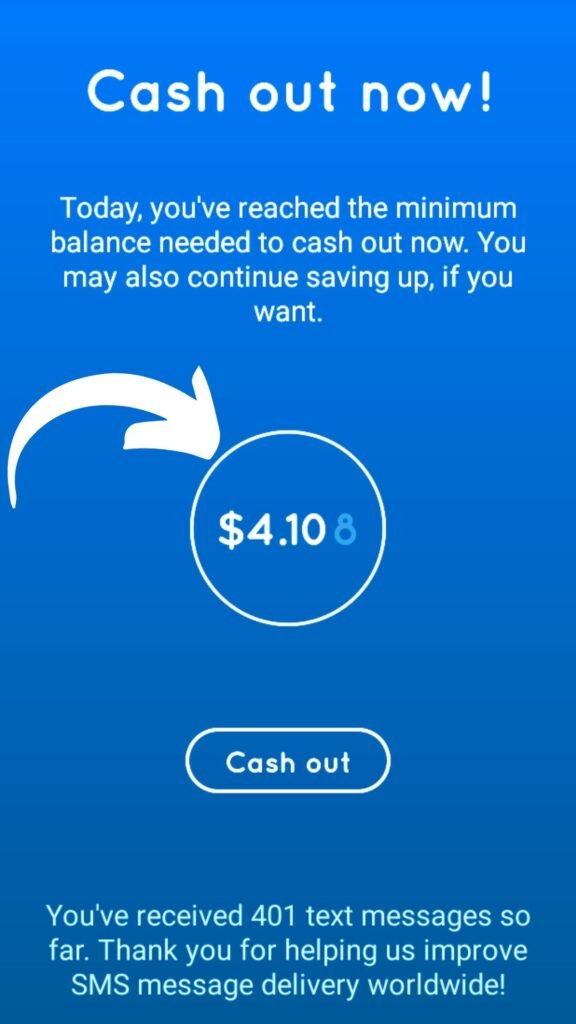 This case study clearly shows that you can earn around $2 per month. This does not, however, imply that you will be earning $2 per month, as earnings vary by country. There are people who have reported earning $5 per month, while there are others who have complained of earning only $1 per month. On average, you can expect to earn $2 to $3 per month by receiving text messages using the McMoney mobile app.
If you want to maximize your earnings consider downloading SMS Profit, which pays between 2 and 4 dollars monthly. Read our full SMS Profit review to learn how it works.
McMoney PayPal payment proof
In the past few months that I've been using McMoney, I've been paid a number of times for simply receiving text messages. Furthermore, there are a number of people online who have also shared McMoney payment proofs. If you're wondering whether McMoney will pay you, don't worry, McMoney will pay you for every message they send you, and you'll be able to withdraw the funds once you've accumulated at least $1.
Here are some McMoney payment proofs of the money I got paid for simply receiving text messages.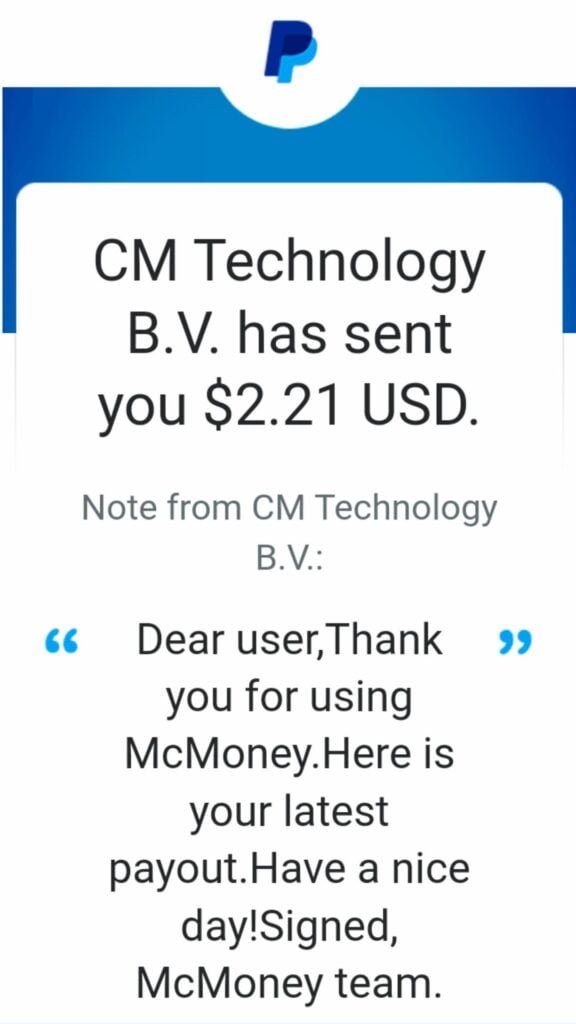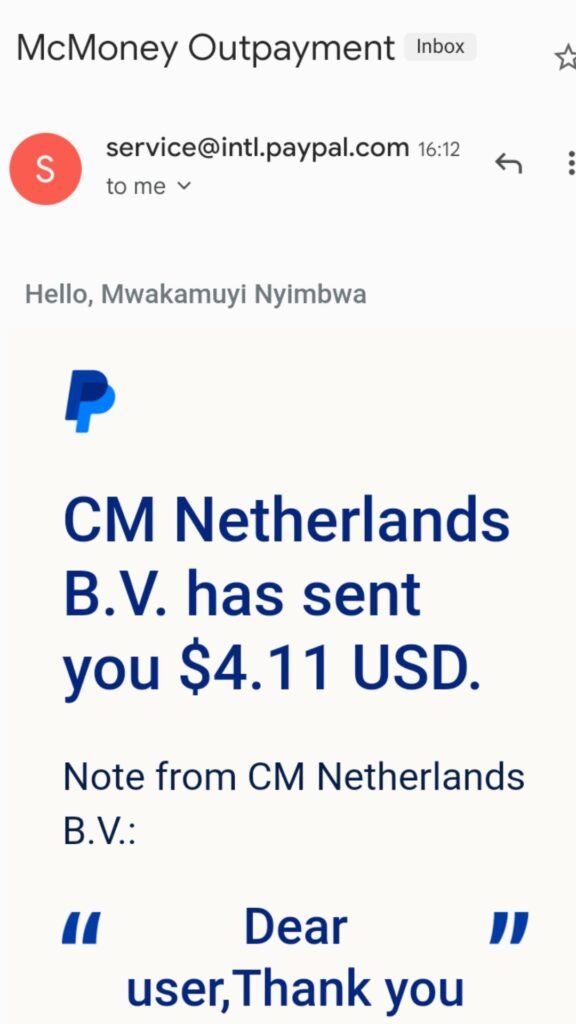 McMoney payment methods
McMoney only accepts PayPal as a payment method. To request payments from McMoney, simply enter your PayPal email address and click the cash out with PayPal button. The funds are transferred directly to your PayPal account. The only disadvantage is that receiving payments from McMoney into your PayPal account takes a bit long. It takes about 4 weeks, whereas similar apps like SMS Profit, process payments within a few hours/days.
Is McMoney app safe?
McMoney is a safe mobile app that pays people to receive text messages. This is probably the most important aspect of this McMoney review, as most passive income apps are scams. So I completely understand if you are concerned about the security of this mobile application. Just as I have said, McMoney is safe to use.
Firstly, the mobile app does not require any personal information other than your phone number and your PayPal email address when creating an account. The PayPal email address is only used to send your payments. Therefore, none of your personal information is exposed.
McMoney is owned by MC.com, a reputable company that has been in business for more than 20 years. So you have nothing to be concerned about when it comes to whether McMoney is safe or not.
Is MCMoney legit?
McMoney is a legitimate mobile app that enables users to earn money simply by receiving text messages. With so many passive income apps turning out to be scams, you may be wondering if a mobile app that promises to pay people for doing nothing can be trusted. McMoney is not a scam; it is a legitimate mobile app that pays people to receive text messages.
However, while this mobile app is legitimate, it has a very low earning potential; you can only make $2 or $3 per month. As a result, many people may regard this mobile app as a scam, but it isn't.
Apps like McMoney
McMoney is an excellent app for earning money by receiving text messages. However, there are other options, possibly even better ones. Here are apps like McMoney to consider:
SMS Profit; Similar to McMoney, this app pays people to receive text messages. I run a case study comparing McMoney against SMS Profit for two months. I discovered that SMS Profit pays way more compared to McMoney, you can make as much as $6 a month using this mobile application. Read the full SMS Profit Review.
Google Opinion Rewards; This is a Google service that pays people to take surveys about Google products. Surveys typically take less than 30 seconds to complete. You might be asked what you think about a YouTube video you recently watched, or how you paid for the items you bought at the supper market.
Survey Junkie; This is yet another website that pays people to complete surveys. Survey Junkie provides high-quality surveys that typically pay between $1 and $3 per survey. These surveys, however, typically take longer to complete than Google Opinion Rewards' surveys. Surveys may take anywhere between 10 and 30 minutes to complete.
Money SMS; This is another app that pays people to receive text messages; though I haven't tried it myself, there are many people online who claim to have been paid by Money SMS for receiving text messages.
1Q; This is a market research site that enables brands to interact with an audience in real time. They do this through questions and answers, and you are paid for each answer you provide. Unlike other survey sites, 1Q pays instantly via PayPal.
Does McMoney work Worldwide?
Yes, McMoney works worldwide. So anyone can download the McMoney app regardless of the country they are based in.
However, keep in mind that McMoney pays out only using PayPal. So make sure PayPal works in your country before downloading the app because that's the only way you can get paid.
Is it worth it?
McMoney allows you to earn money by absolutely doing nothing, so if you're wondering whether it's worth it! Yes, McMoney is worth trying out. However, keep in mind that you are going to earn very little using this mobile application.
With McMoney you can earn between $1 and $3 per month, which is typically very low. For most people, there is literally nothing they can do with $3, so it's not going to be worth it for them to wait an entire month just to earn one to three dollars. Yet for others $3 makes a difference; it can help them buy one or two things.
It is up to you to determine whether receiving 3 dollars per month for receiving random messages is worth it or not. Personally, I do not mind receiving these messages and moreover, the additional 2–3 dollars helps me pay for my internet bills. Therefore, I find McMoney to be a worthwhile mobile app. If you are interested in giving McMoney a try, check it out here. And make sure to use this referral code to receive a sign-up: 4XRUQRAT
MCMoney Review: Final thoughts
McMoney is a mobile app that allows users to earn money simply by receiving text messages. This mobile application is simple to use and earns you money passively on your phone. All you have to do is download and install the app on your phone and then register your phone number.
McMoney is a legitimate mobile app that pays people for simply receiving text messages; however, you should not expect to make much, you will only earn about $2-3 per month. Check out the following post if you want to learn how to make at least $1000 per month.