You've most likely come across TransferGo and Wise while looking for the best international money transfer service. Wise and TransferGo are both excellent money transfer services that are similar in many ways, making it extremely difficult to determine which company is better. If you're not sure which service to use, read this TransferGo vs Wise comparison to determine which money transfer service is best for you.
On one hand, we have Wise, a well-known UK-based fintech firm, and on the other, we have TransferGo, a rapidly growing fintech firm. However, before we get too deep into the comparison, let's take a look at both companies.
You may also like reading:
TransferGo vs Western Union 2023: Which Money Transfer Service Wins?

Wise VS Western Union | Which One Is Better In 2023
What is Wise (TransferWise)?
Wise (TransferWise) is a digital banking platform that specializes in international money transfers. It is well-known for its low-cost money transfers and transparent exchange rates. What distinguishes Wise from other money transfer companies is that it provides many additional services. In addition to money transfers; you can use Transferwise to hold money, receive payments, and make payments using the Wise MasterCard.
Wise was founded in 2010 and now operates in more than 80 countries. It has a large network of banks in these countries, allowing people to transfer money around the world at a low cost.
When transferring money on Wise, the most common payment methods are bank card payments and bank deposits. The recipient, on the other hand, receives the funds through the bank account. In some countries, via mobile money or digital wallets.
What is TransferGo?
TransferGo is an excellent international money transfer company based in London. TransferGo has been providing reliable and transparent international money transfers since 2012. As a result, most of its users like it, and it has an excellent rating of 4.8 out of 5 on Trustpilot, making it one of the best-rated money transfer companies.
TransferGo operates in over 63 countries. Currently, TransferGo primarily allows people to send money from Europe, the United Kingdom, and Turkey. However, TransferGo allows you to send money to a variety of countries, including the United States, Canada, and India.
TransferGo, unlike Wise, provides a wide range of payment and delivery options. These payment and delivery options differ by country. TransferGo offers a variety of delivery methods, including bank accounts, bank cards, digital wallets, and mobile money.
Which company provides a quality service, TransferGo or Wise?
Opening accounts
Let's start by looking at how easy it is to open an account on both platforms. Opening an account on TransferGo and Wise is very easy and straightforward. All you need is to sign up with your email address, then add and verify your phone number.
Verifying accounts (TransferGo vs Wise)
You must verify your account first in order to transfer funds with either of the two companies.
To verify a Wise account, there is a deposit requirement of a certain amount. The deposit amount varies depending on where you live. Once you complete your profile, upload your ID, and make the deposit, your account will be verified automatically. You can later withdraw the funds after verification.
However, there is no deposit required when verifying a TransferGo account. All you have to do is fill out your profile and upload your identification document; the address is automatically verified by opening your browser location.
Transferring money
Let's talk about the ease of making money transfers.
Transferring money with TransferGo is simple; there are only a few steps to take. TransferGo displays all transfer details, such as payment method, fees, delivery method, and time. Even if it's your first time, it is very easy to navigate through the website.
Wise, like TransferGo, is a simple and straightforward way to send money abroad. If you are sending money to someone with a wise account, all you need is their email address.
Customer support
When it comes to contacting support, both companies actively respond to customers. You can reach both Wise and TransferGo support via email, live chat, and phone.
Verdict: TransferGo is the winner in this category, despite the fact that both companies provide excellent services. 
Trust and credibility
In this section, I'll answer one of the most frequently asked questions about any money transfer service.
Is Wise safe?
Yes, Wise is safe; it is a reputable company that has been in operation for over ten years.
Wise is unquestionably safe, with over 13 million users worldwide and a Trustpilot rating of 4.5. However, these figures may indicate a financial institution's trustworthiness and reputation. They are insufficient to conclude that the company is safe. To determine whether a company is safe or not, we have to check whether it is licensed and authorized to conduct business by financial regulatory authorities.
During my research to determine whether Wise is safe, I discovered:
Wise (TransferWise) is a UK-registered fintech company that is regulated by several authorities worldwide. This includes the FCA in the United Kingdom and FinCEN in the United States.
The Wise website is protected by an SSL certificate, which means that any information you enter on the site is encrypted and secure.
Accounts and all transactions are protected by a two-factor authentication system.
With all of these security measures in place, we can undoubtedly state that Wise is safe.
Is TransferGo safe?
TransferGo is undoubtedly safe to use. TransferGo is a fully registered and regulated money transfer company in the UK, that has been operating since 2012. It is overseen by HMRC and regulated by the UK Financial Conduct Authority (FCA) as well as regulatory authorities in the countries in which it operates.
Verdict: a tie, because both companies are extremely safe for money transfers.
TransferGo vs Wise fees
Transfer fees and exchange rates are the most important aspects of any money transfer. Let's compare the costs of sending money between TransferGo and Wise to see which company has the lowest fees and the best exchange rates.
TransferGo fees
TransferGo is most likely the most affordable money transfer service. With the fast delivery aka "today (now)" delivery option only costs 1.49 Euro. The standard delivery option costs 0.99 Euro with the promise of delivering the money on the following day.
The majority of money transfer companies charge additional fees by lowering mid-market exchange rates. These are what we call hidden fees, and TransferGo charges these fees. However, when compared to other money transfer companies, TransferGo only lowers the exchange rate by 0% to 2%.
For example, if you send 100 Euro from Germany to the United States, you will be charged a 0.99 Euro transfer fee plus a 0-2 percent fee hidden in the exchange rate, bringing the total fees to 1-3 Euro.
Wise (TransferWise) fees
Wise does not only provide low-cost money transfers but also has the most competitive exchange rates. Transferwise charges a small flat fee as well as a commission fee of 0.3–0.5% of the transfer amount.
Unlike many other money transfer companies, Wise does not charge exchange rate fees, it uses the mid-market rate (the rate you find on Google) to convert funds from one currency to another. As such, Wise is one of the cheapest companies to send money with.
To find out how much it would cost to send money with Wise, log in to your account. Enter the name of the country you want to send money to and the amount you want to send; the fee is automatically calculated and displayed.
Verdict: Wise emerges victorious. Despite the fact that both companies are extremely cost-effective, Wise is slightly less expensive than TransferGo.
TransferGo vs Wise transfer speed
Aside from fees, the time it takes to complete the money transfer should be the next thing to consider when deciding which money transfer service to use. Let's take a look at this section of the TransferGo vs Wise comparison to see which money transfer service is faster.
TransferGo speed
TransferGo provides quick transfers, with now transfers taking less than 30 minutes and standard transfers being completed on the following day.
Wise transfer speed
Wise is one of the fastest money transfer companies, with most transactions completed within one day. However, depending on various circumstances, transfers can take up to five days.
Regardless of the company you use, the speed of money transfers is affected by the following factors: payment method, delivery option, destination country, and time of day when you make the transfer. If you want a quick transfer, choose the appropriate payment and delivery method.
Wise and TransferGo mobile money transfers are almost instant, whereas bank transfers take a little longer to process.
Verdict: TransferGo wins. Despite the fact that both Wise and TransferGo offer quick money transfers, TransferGo is faster.
TransferGo vs Wise customer satisfaction
Here's what people are saying about: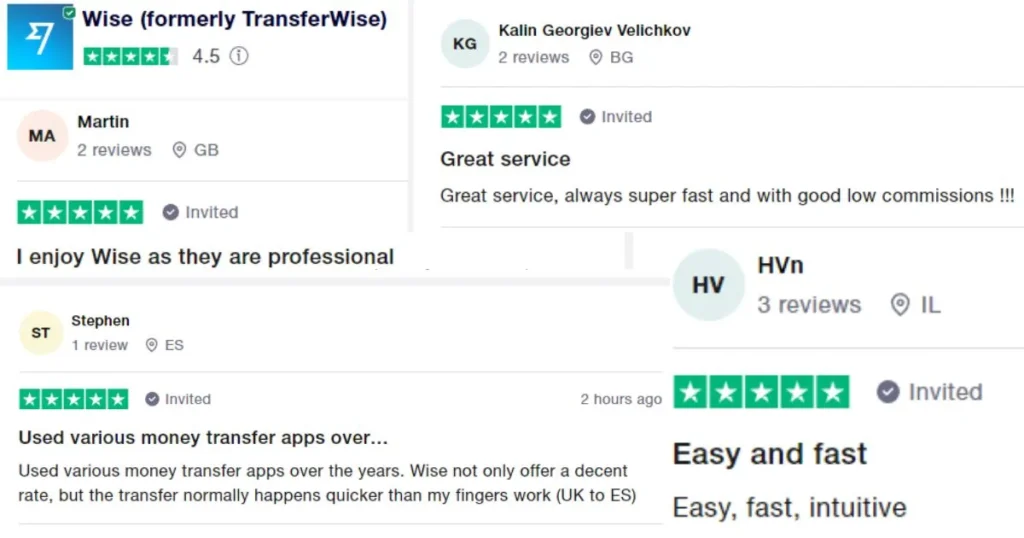 After going through several reviews on Trustpilot and other website rating sites, I found out that both companies are well rated. People frequently describe these two services as fast, cheap, and reliable.
Verdict: Tie, the customer satisfaction in both companies is excellent.
Conclusion
After thoroughly comparing TransferGo with Wise to determine which money transfer service provider is better, it has been found that:
TransferGo makes it a little easier to open and verify an account.
Both companies are registered and regulated, so they are both safe to use for money transfers.
Wise (TransferWise) is slightly cheaper than TransferGo.
Both Wise and TransferGo provide excellent services; however, if we must choose one, TransferGo comes out on top.
Do you have any questions about this review, or would you like to share your experience in regard to money transfers? Please feel free to leave a comment below.