Are you looking for the most efficient way to send money? Or you have many options and aren't sure which one to choose. This TransferGo review will help you decide whether TransferGo is the best option for sending money. We'll examine all the aspects to consider when choosing a money transfer service provider, such as transfer speed, exchange rates, fees, security, and customer satisfaction.
This TransferGo vs Wise comparison may also be useful in your search for the best way to send money internationally.
What is TransferGo?
TransferGo is a London-based money transfer provider founded in 2012. It offers online money transfers, making it the ideal choice for sending money when compared to traditional banks and other money transfer providers.
TransferGo's primary purpose is to make it easy and affordable for people to send money to family and friends. TransferGo mainly offers two types of money transfer options: Quick transfers, which take less than 30 minutes, and Standard transfers, which take one day. When sending money using TransferGo, users can choose between the two options.
TransferGo can be used to send money from the United Kingdom, Turkey, and European countries. On the other hand, it can be used to send money to over 60 countries, including the United States, Canada, Australia, and Russia.
Fees and exchange rates
TransferGo offers competitive fees and exchange rates; according to a Monito study comparing the best money transfer services, TransferGo was found to be 70% cheaper than other money transfer services.
TransferGo fees
TransferGo charges low fees and in some instances, you might even send money absolutely for free, that's if you don't mind the speed.
The fees are primarily determined based on the sending and the receiving country. However, there are many other factors that influence fees; below is the TransferGo pricing structure:
Free transfers: TransferGo standard transfers are completely free to select countries. Here are some countries where you may send money for free with TransferGo: Poland, Turkey, Ghana, and Ukraine. Most of these free transfers may take some time to arrive. So, if you don't mind the speed, check if TransferGo offers free transfers to your country.
Now/Today transfers: Now/Today transfer fees start at £0.99 or equivalent, but the cost varies from country to country. Transfers to the majority of countries cost £1.49 or equivalent. These are the most costly transfers on TransferGo. There are, however, the fastest, with the "Now Transfers" completed within 30 minutes and the "Today Transfers" within the same day. These types of transfers are suitable for people who want to send money quickly and are willing to spend a little bit extra.
Standard transfers: The standard fee for sending money with TransferGo is usually £0.99 or equivalent. In most cases, TransferGo standard transfers take one day to complete, however, they may take up to three days.
TransferGo rates
The exchange rate is another significant factor in the cost of money transfers. A money transfer provider may offer transfers at a low cost, or even for free, yet impose exorbitant fees based on the exchange rate. You must constantly ensure that you are not paying these hidden fees.
You may be wondering if TransferGo offers fair exchange rates. TransferGo charges exchange rate margin fees ranging from 0 to 2.2%. This simply implies that while exchanging currencies, a fee of 0 to 2.2% will be charged. Is this price reasonable? When compared to other money transfer companies or traditional banks, this is a very competitive exchange rate.
The payment and delivery methods, the countries of the sender and recipient, as well as the urgency of the money transfer, all have an impact on exchange rates.
Furthermore, TransferGo calculates and adds these fees in advance, so you will know exactly how much money the recipient will receive right away.
Is TransferGo free?
TransferGo is not free, however, it does offer free money transfers to a few select countries. Turkey, Ukraine, Ghana, and Poland are a few of the countries where you may send money for free using TransferGo. TransferGo is also one of the most affordable money transfer firms to use when sending money from Europe.
How fast is TransferGo?
TransferGo is most likely the fastest money transfer company. This is due to their collaborations with various banking institutions in the countries in which they operate. TransferGo typically provides two sorts of money transfers: Now/today and Standard transfers.
Now transfers: TransferGo guarantees to deliver these types of transfers within 30 minutes or less.
Today transfers: These types of money transfers are completed within the same day.
Standard transfers: These are ordinary money transfers on TransferGo and as such these transfers are usually slower and cheaper. These transfers are delivered on the following day, which is also very fast compared to other money transfer services.
Based on several reviews from customers on Trustpilot, it's clear that TransferGo delivers the money as promised.
TransferGo Review: How it works
How does TransferGo work? You might be wondering. TransferGo solely uses local transfers to send money. TransferGo does this by maintaining bank accounts in each of the countries in which they operate. When you send money to another country using TransferGo, the money is simply transferred from TransferGo's local bank account in that country to your recipient's bank account. This way, TransferGo is able to transfer money at minimal costs and considerably faster.
TransferGo supports a variety of payment and delivery options;
TransferGo Payment options
You can pay for the money transfers using bank transfers, debit/credit cards, and in some countries using Google Pay and Apple Pay.
TransferGo Delivery options
The recipients can receive the money directly to their bank accounts, debit cards, or mobile money.
How to send money with TransferGo
Sending money with TransferGo is straightforward. Even if you've never transferred money before, all you have to do is follow these simple steps:
Sign up
Click this link to create and verify your account and claim two free transfers.

Enter transfer details
Login into your account and press on send.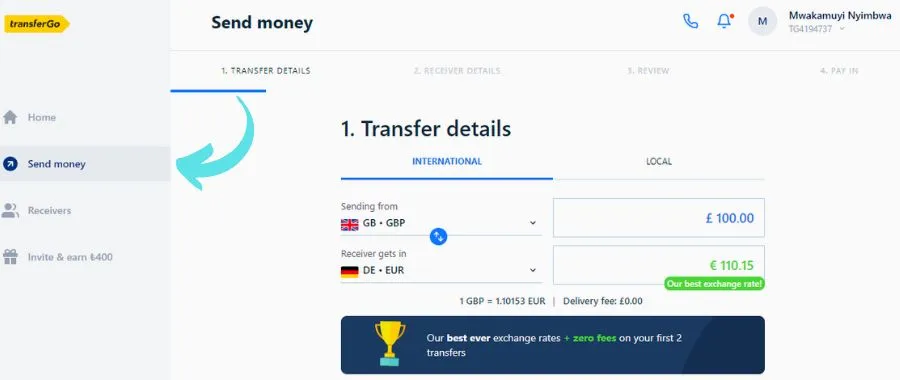 Choose your country and the country of the recipient, then enter the amount of money you wish to transfer. You also need to select the delivery option; Either the now or the standard delivery option.
Enter the receiver's details
Review
Check to ensure that all the entries are correct. If anything is wrong, you can easily correct it.
Pay
Choose your preferred payment option and pay for the money transfer. Money will be sent as soon as payment is made.
Is TransferGo legit?
Trusted by over 4 million people in more than 63 countries, TransferGo is a legit money transfer provider. TransferGo is registered and regulated in the United Kingdom. Its activities are supervised by the HM Revenue and Customs (HMRC) and regulated by the UK Financial Conduct Authority (FCA).
Furthermore, TransferGo has been offering money transfer services since 2012. It's one of the most reliable money transfer providers, with over a decade of helping people transfer money.
Is TransferGo Safe?
Yes, TransferGo is undoubtedly a safe money transfer provider that is registered and regulated in the United Kingdom.
First and foremost, TransferGo keeps your money in separate secure accounts from its operating accounts. This is important because if TransferGo happens to have any financial problems, they wouldn't be able to use your money. So if anything is to happen to TransferGo your money would be returned to you.
Secondly, TransferGo money transfers are protected by the industry-standard HTTPS encryption protocols and all your personal information is safeguarded by the use of an SSL certificate.
TransferGo tracking
To track and check the status of your TransferGo transfer, go to the homepage and click on the information icon next to the transaction. You will be able to see the stage of your money transfer, as well as the payment information and other transaction details.
Does TransferGo work in USA?
TransferGo is available in the United States, however, it can only be used to send money to the United States. If you're asking whether you can use TransferGo to send money from the US to other countries, the answer is no. You can not transfer money from the USA using TransferGo. However, you can use TransferGo to send money from Europe, Turkey, and the United Kingdom to the United States.
Does TransferGo work in Nigeria? Yes, however, you may only use TransferGo to send money to Nigeria and not from Nigeria to other nations.
Customer satisfaction
With over 4 million customers, TransferGo is one of the highest-rated money transfer providers. According to thousands of user reviews on the internet, it's clear that the majority of users are quite satisfied with TransferGo.
TransferGo boasts a 4.7/5 rating and over 28 000 positive Trustpilot reviews. With such positive user feedback, it is apparent that TransferGo is an excellent money transfer service that satisfies most of its customers' expectations.
Here are some reasons why people like TransferGo;
High-speed transfers
Low-cost money transfers
Great customer support
The simplicity of sending money using TransferGo
However, in rare cases, one or two people complained of the following problems;
Delays in delivery for both free and standard transfers
Account verification being denied
TransferGo Alternatives
Do you still have doubts about using TransferGo to send money? Here are a few TransferGo alternatives to consider:
TransferGo Review: Conclusion
At the end of the day, TransferGo is a reliable money transfer service. It's a cheaper and faster way for people in Europe, Turkey, and the United Kingdom to send money.
TransferGo is likely the only money transfer service that guarantees delivery in less than 30 minutes. So, if you're looking for a quick and cheap way to send money, TransferGo is the ideal option.
Discover other best ways to send money internationally in this guide.