Are you looking for a flexible and rewarding side hustle that lets you work from anywhere and whenever you want?
GMR Transcription could be what you are looking for.
GMR Transcription offers remote transcription work that allow people to work and earn money online. The work is flexible enough to let people work from anywhere and anytime.
In this GMR Transcription review, we will discuss everything, including pay rates, job requirements, and the job application process, so you can decide whether GMR Transcription is good for you.
Firstly, Is GMR Transcription even legit?
Yes, GMR Transcription is legit, keep reading to find out more and learn how it all works.
What is GMR Transcription?
GMR Transcription is a well-known transcription company that offers high-quality transcription services to clients in various industries, including medical, legal, academic, and business.
It is a reputable company that has been operating in the transcription industry for nearly 20 years. Besides transcription services, GMR Transcription also offers translation and proofreading services.
What is transcription? You may be asking.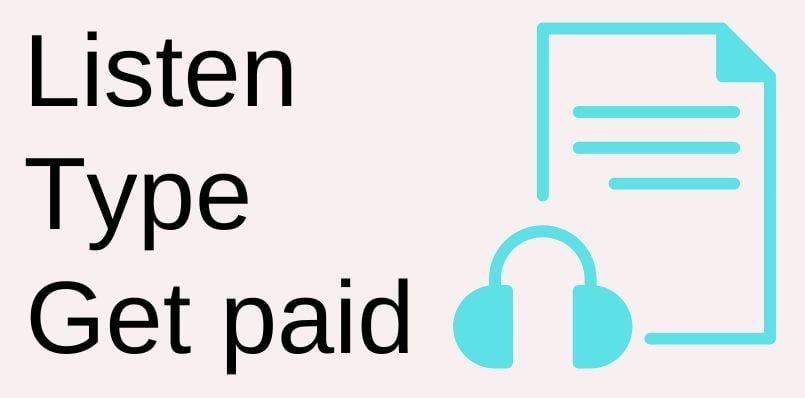 Transcription is simply the process of converting audio recordings into a written document. The recording can be anything, it may be a recorded phone call, meeting, presentation, interview, court proceeding, etc.
Transcription jobs involve converting audio or video content into text. GMR Transcription provides transcription jobs on a contract basis, which means you work independently and have complete control over when, where, and how much you work.
GMR Transcription jobs
GMR transcription offers the following jobs:
General Transcriptionist
Spanish Transcriptionist/Translator
Certified Translator
GMR Transcription is always looking for qualified transcriptionists and translators to work with. Note that these are freelance positions and not employment opportunities. However, you can still do it in the long run if you like.
If you get hired by GMR Transcription, you will have the freedom to work from home and choose which projects to work on. You will also have the option of working as much or as little as you want.
Take note that in order to apply for these positions, you must be an American resident and meet the requirements outlined below.
Is GMR Transcription legit?
GMR Transcription is a legit transcription company based in the US. The company was founded in 2004 by Ajay Prasad. Since then, it has been offering excellent transcription and translation services to both private and public institutions, as well as individuals. The high rating of 4.9 on Trustpilot demonstrates the company's excellence in service delivery.
As a transcriptionist, GMR Transcription is a legitimate company to work for that provides flexible transcription work. The company only hires US-based transcriptionists, so if you are from the USA this is an excellent opportunity to make money online.
Additionally, GMR Transcription pay rates are much decent compared to most other transcription companies.
GMR Transcription is often ranked among the best transcription jobs by various online publishers like;
Upwork: 15 Best Transcription Jobs Online and Where To Find Them
SmartBlogger: 20+ Online Transcription Jobs for Beginners (Best of 2023)
Even though GMR Transcription provides legitimate work opportunities, keep in mind that the company has a rigorous application process and is very strict regarding accuracy, so there is no room for mistakes. As a result, you must be willing to work hard and meet strict deadlines.
Is GMR Transcription a scam?
GMR Transcription is not a scam. It is a legitimate company that provides transcription services to various industries and allows freelancers to earn money online by working as transcriptionists or translators.
How much does GMR Transcription pay?
GMR Transcription states on its website that transcriptionists and translators can make between $1000 and $3000 per month depending on their skills and the type of work they choose to work on. However, GMR Transcription does not disclose the exact minute or hourly rate. They only disclose rates to hired freelancers.
According to several salary submissions on Glassdoor, it seems like the average hourly rate is 18 dollars.
Also, one Reddit user states that the rates range from $0.75 to $1 per audio minute.
Even though pay rates are not stated clearly, likely, GMR Transcription pays well. This is due to great reviews and ratings on job rating sites like Glassdoor and Indeed.
Can you make the $1000 to $3000 monthly as GMR Transcription claims?
Based on the many positive reviews and considering the average pay rates in the transcription industry, it's possible to make $1000 per month. To make $3000 however, you need to put in extra effort, or you have to be an experienced transcriptionist
Remember that the amount you can earn per project varies depending on various factors. This includes the following:
Audio quality
Number of speakers in the audio
The deadline
Your typing speed and experience will affect your earnings as well. The faster you can transcribe the more money you can make. But note that accuracy is more important than speed because GMR Transcription takes accuracy very seriously, in fact they guarantee their customers 99% accuracy.
GMR Transcription payment methods
GMR Transcription likely pays via direct deposit or PayPal.
How to apply
Applying for GMR Transcription jobs is straightforward however, the process takes time. You can apply for GMR Transcription jobs by completing a few steps.
Before applying, ensure you have met all the job requirements mentioned below.
Firstly visit the GMR Transcription career page and select general transcription if you want to apply for the transcriptionist position.
After you select general transcription, you will be taken to a page where you must enter your email address.
Then you will be redirected to a new page where you will take a one-minute typing test to assess your typing speed and accuracy. To pass this test, you must have a typing speed of at least 50 words per minute and 90% accuracy.
After passing the typing test, you will receive an email with a transcription test and transcription guidelines. Make sure that you read and understand these guidelines before attempting the test.
If you pass the test, you move on to the probation period. This period entails successfully transcribing approximately 2 hours of audio. This is not an easy task, but GMR Transcription uses this time to evaluate the seriousness of new transcribers.
You will start working on paid work upon completing the probation period.
For more information on how everything works visit the GMR Transcription FAQ page.
Does GMR Transcription hire worldwide?
GMR Transcription does not hire worldwide, they only hire US-based transcriptionists.
If you are not from the US and are interested in working as a transcriptionist, check out our TranscribeMe review which hires worldwide.
Check out our ultimate guide to transcription jobs; discover nearly 40 places you can find transcription jobs.
Job Requirements
GMR Transcription says that experience is not a requirement on their career page. You only need to pass a transcription test to have a chance of working for GMR Transcription. Since GMR Transcription guarantees a 99% accuracy rate to its customers, the test is strict and difficult to pass.
Here are the requirements you must meet to work for GMR Transcription.
Be a US resident (Besides California)
Pass a transcription test
Have a typing speed of at least 50 words per minute
Complete the probation period (Transcribe 2 hours of audio)
Equipment requirements
Have access to a computer
A strong internet connection
Good quality headphones/earbuds
A foot pedal (Optional)
Other requirements
You must be willing to transcribe at least four hours of audio per month.
For more information on GMR Transcription jobs and how everything works check out their FAQ page.
GMR Transcription Pros and Cons
Let's take a look at the upsides and downsides of working for GMR Transcription.
Pros
Possibly good pay rates
Availability of work
Flexible working conditions
A good number of positive reviews
Cons
Difficult application process
Tight deadlines
Strict and high accuracy requirements
There is a probation period
GMR Transcription reviews from employees
GMR Transcription has the most positive reviews of all the transcription companies I have looked into. It has a 4.0 rating on Indeed and a 4.5 rating on Glassdoor.
Here are some reviews from people who work for or have worked at GMR Transcription.
Positive reviews
There is consistent work.
Flexible work; You work whenever you want
Good pay rate
Timely payments
Good company to work with
Negative reviews
Takes so much time and work is monotonous at times
Some audio recordings hard to understand
The pay rate is pretty low for the amount of time invested.
Too strict when it comes to accuracy and this can make it hard for transcribers.
Support delays in replying at times
In general, there are more positive reviews about GMR Transcription and only very few negative ones. Many people are happy working for GMR Transcription, so there is a good chance you will too.
Check out other ways to make money online; here are 19 legit ways to earn money online.
GMR Transcription alternatives
There are many transcription companies just as good as GMR Transcription, some of which are even better. Here are the best GMR Transcription alternatives that offer remote transcription work:
Way With Words
Way With Words is a great place to start for beginners because they offer a lot of training and educational materials. They also provide some of the best pay rates in the industry. GMR Transcription pays between $0.45 to $1.73 per audio minute.
Unlike GMR Transcription, Way With Words hires transcriptionists from almost all English-speaking countries like the US, United Kingdom, Canada, Australia, South Africa, Singapore, New Zealand, Hong Kong, Malaysia, and European Union countries.
They do not require experience, but you must pass the entrance assessment test to work with them.
Payments are made monthly via PayPal.

TranscribeMe is a good alternative for those outside the US because, unlike GMR Transcription, it hires from all over the world.
Pay rates range from $15 to $22 per audio hour for beginners. Experienced transcriptionists, on the other hand, can make as much as $70 for transcribing one audio hour.
TranscribeMe pays every week through PayPal.
Read our full TranscribeMe review.
GoTranscript
GoTranscript is a good entry job if you want to work as a transcriptionist.
They do not need prior experience and hire worldwide.
GoTranscript pays around $0.60 per audio minute. They also state on their website that on average every transcriptionist earns around $150 and top transcriptionists make around $1215 per month.
GoTranscript pays via Payoneer or PayPal. Payments are made weekly.
Rev
Rev is a reputable transcription company that serves more than 750 000 customers including government institutions and private organizations.
Rev accepts job applications from the following countries; Australia, Canada, Ireland, Mexico, Netherlands, New Zealand, South Africa, the United Kingdom of Great Britain and Northern Ireland, United States.
Pay rates range from $0.30 to $1.10 per audio/video minute. Rev also offers translation jobs that pay between $1.5 and $3 per audio/video minute.
Rev pays out every Monday using PayPal.
Daily Transcription
Daily Transcription offers transcription services to the entertainment, corporate, academic, and legal industries.
They are always looking for professionals and beginners alike to apply for transcription jobs. Daily Transcription only hires people from Canada and the United States. In order to be considered for work, you must also pass the transcription test.
Daily Transcription pays between $0.75 to $0.85 per audio minute. They also claim that top transcriptionists can make between $350 to $950 per week.
Payments are made weekly via check.
GMR Transcription Review: Final Thoughts
GMR Transcription is an excellent work-from-home opportunity that pays around $1000 monthly. It is a legitimate company that offers remote transcription jobs to US-based transcriptionists.
With plenty of positive reviews, many people are pleased working for this company.
The only significant disadvantage is the rigorous application process and high accuracy requirement. This makes getting a GMR Transcription job extremely difficult, but if get it, it's a worthwhile opportunity.
There are other companies similar to GMR Transcription, that offer an opportunity to earn money online. Check out our ultimate transcription jobs guide, where I share nearly 40 different places where you can find transcription work.
Is there anything I missed in this review?
Please let me know in the comment section below and if you have any questions or suggestions don't hesitate to ask 😀