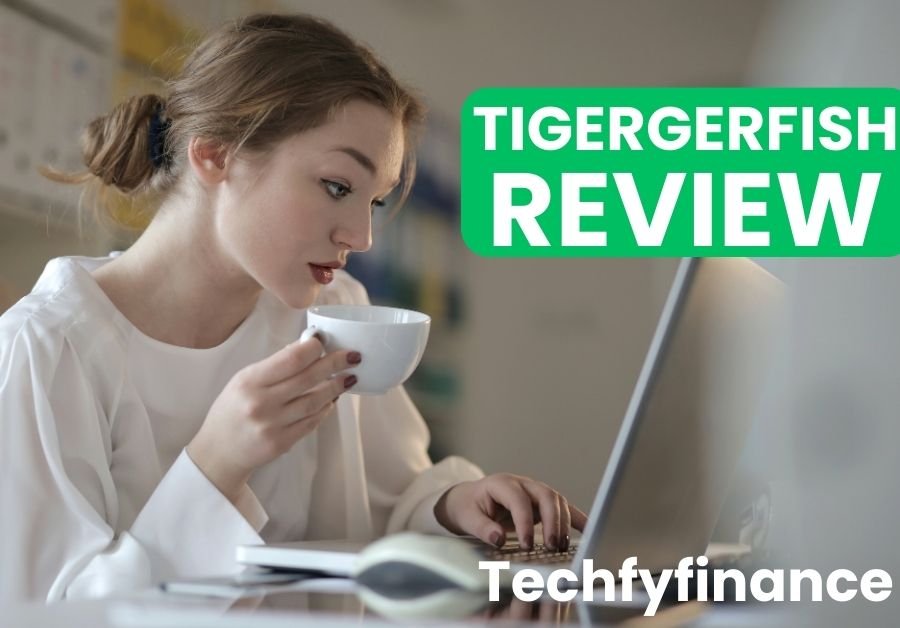 Are you interested in earning money online with transcription jobs and wondering if Tigerfish Transcription is a good fit for you?
In this Tigerfish review, we will take a closer look into the company, guiding you through everything from pay rates to job requirements, the application procedure, and the pros and cons of working for Tigerfish Transcription.
Tigerfish is a US-based transcription company that has been operating since 1989. It provides transcription work with the option to work from home, and you can work as much or as little as you choose.
To begin, transcription is the conversion of audio/video into text. So transcription jobs pay you to convert audio/video to text. There are numerous places you can find transcription work; Tigerfish Transcription is one of them, and we will take a closer look into the company.
You may also like:
How To Become A Transcriptionist In 2023 (No Experience Needed)
What is Tigerfish Transcription?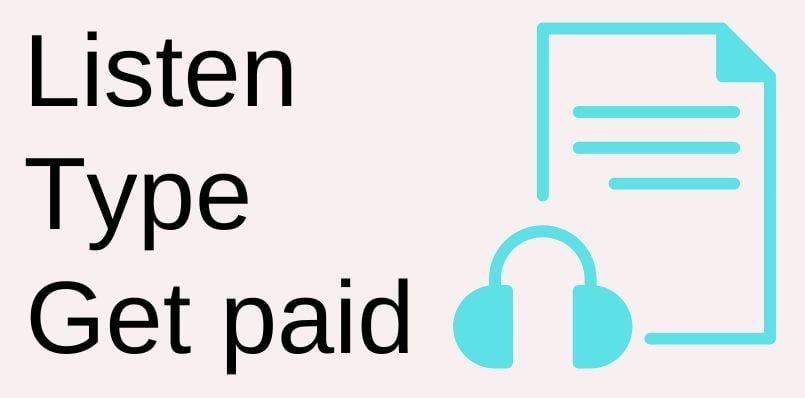 Tigefish Transcription is one of the oldest transcription companies that started providing services in 1989. The company is well known for offering quality transcription services to individuals and institutions in various industries like healthcare, legal, video production, marketing, and financial consulting.
Not only is Tigerfish Transcription one of the oldest transcription companies, but it's also a very reputable company that works with some of the biggest brands and institutions.
Tigerfish is so dedicated to providing an outstanding service that they promise a 2-hour turnaround time.
They hire transcriptionists as independent contractors who can work from anywhere. Anyone can apply to work for Tigerfish because no prior experience is required; all that is needed is to pass their transcription test in order to be hired.
Is Tigerfish Transcription legitimate?
Tigerfish Transcription is a legit and reputable transcription company that has been around for over 30 years.
Tigerfish is unquestionably a legitimate company after 30 years in business. Furthermore, it has been featured in numerous media outlets, including Forbes, CNN, and The New York Times.
Tigerfish's clientele includes some of the largest and most well-known institutions. Some of the organizations to whom they provide services are listed below.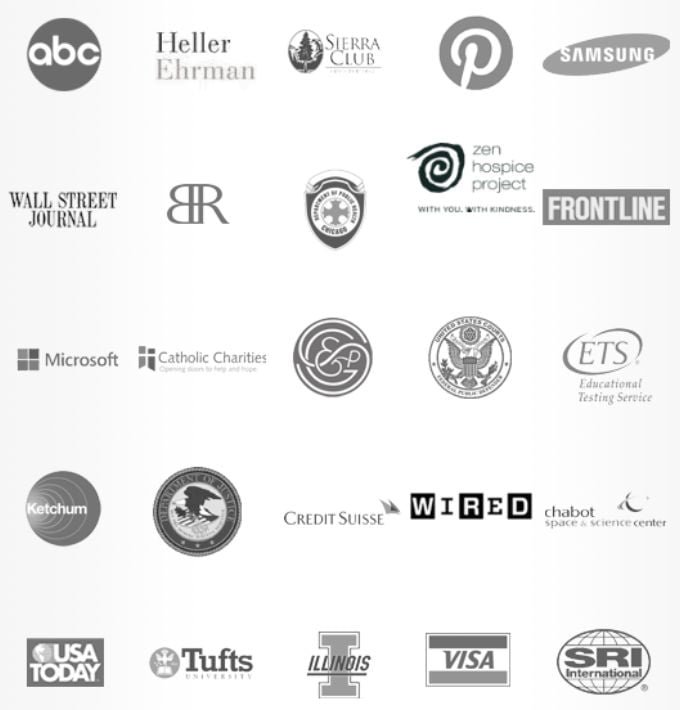 As a transcriptionist, Tigerfish is a legit company to work for that will give you the freedom to work from home. The company is very open about its pay rates, application process, and payout schedule.
The website may appear old-fashioned, and the pay rates may be poor, but Tigerfish is a legitimate transcription company that offers remote transcription work.
Tigerfish Transcription Pay
Now let's talk about what you are here for; How much you can earn transcribing on Tigerfish Transcription.
Most transcription companies, such as GMR Transcription, TranscribeMe, or Rev, clearly state how much you will earn working with them on their websites. Tigerfish Transcription, on the other hand, makes no mention of pay rates on its website.
Tigerfish pays transcriptionists per written line utilizing a CPL payment system, whereas other companies pay transcriptionists hourly or per minute of audio transcribed.
Tigerfish Transcription offers pay rates ranging from $0.03 to $0.04 per line. This equates to $0.005 per word. If you can type roughly 1000 words per hour, you can earn $5 to $10 per hour.
According to Indeed, transcriptionists earn an average of $20.32 per hour. Because Tigerfish pay rates are not disclosed, we can assume they are close to this average. This is conceivable because it appears that most people that are hired tend to stay with this company. Some employees have reported working for Tigerfish Transcription for ten years, which is unusual in the transcription industry.
Even though there is no clear information on the Tigerfish website about payment methods and payment schedules, we established that transcriptionists are paid weekly using PayPal.
How does Tigerfish Transcription work?
Here is how Tigerfish works;
Clients come to Tigerfish and order transcription services. There is a form on the website where they can fill out their order details.
When a client successfully places an order, the work is assigned to a transcriber. Tigerfish transcribes a wide range of audio files, from simple audio recordings to complex medical or judicial deposition recordings.
The transcriptionists transcribe the audio/video file within the agreed turnaround time and submit it back to Tigerfish.
After the work is checked and approved you get paid by Tigerfish. Your earnings will depend on the type of work you transcribe and how urgent it is. Also, take note the faster you transcribe, the more money you can make.
Tigerfish pays transcriptionists weekly via PayPal, so you must have a PayPal account to work for Tigerfish.
Tigerfish job requirements
To work for Tigerfish Transcription, you need to meet the following requirements:
You must be a US citizen or a legal resident of the USA
You have to pass the transcription test
You must have a strong internet connection
You must have a reliable computer (Only Windows computers are supported)
You must have transcription software (Express Scribe)
You must have an active phone number for easy communication
Another shocking aspect of Tigerfish is that once your account is accepted, you will be asked to purchase a piece of transcription software for $229 to continue working with them. This appears to be a large investment in my opinion, especially if you are not certain that you will be staying for a long time.
The telephone number requirement also seems unusual to be a requirement for a transcription job.
This is not to imply that Tigerfish is a bad firm to work for; in fact, some people have had wonderful success working for them. It's just that some of the requirements seem out of hand.
How to apply
If you want to work for Tigerfish, you must apply and get approved.
Before applying you have to make sure that you familiarize yourself with the Tigerfish transcription style guide. You can download it here. Take time to read and understand the guidelines as you need to follow their transcription style when doing the test.
The Tigerfish Transcription job application is by email. Let's discuss what to include in your application email.
The email must include the transcription test file. You must download the audio file from their website and transcribe it using Express Scribe. The test has three segments, each being 5 minutes long. There is a focus group, an interview, and a presentation, all of which should be transcribed and saved in one document.
When sending the application, the email subject line should be; Transcription Test [Your name]. Save the transcript with the name; Transcription Test [Your name] as well, and attach it to the email.
Tigerfish Transcription requests that you specify in the body of your email how long it took you to transcribe each portion of the audio recording. Also, include your phone number and address in your email.
Finally, you must provide some background information about yourself, including your educational background and relevant experience.
Email them your application at inbox@tigerfish.com and wait to hear from them.
Tigerfish Transcription Reviews
There aren't many Tigerfish reviews online, but this doesn't imply the company is a scam. If you're still curious about what others think of Tigerfish, here are a few reviews I found online.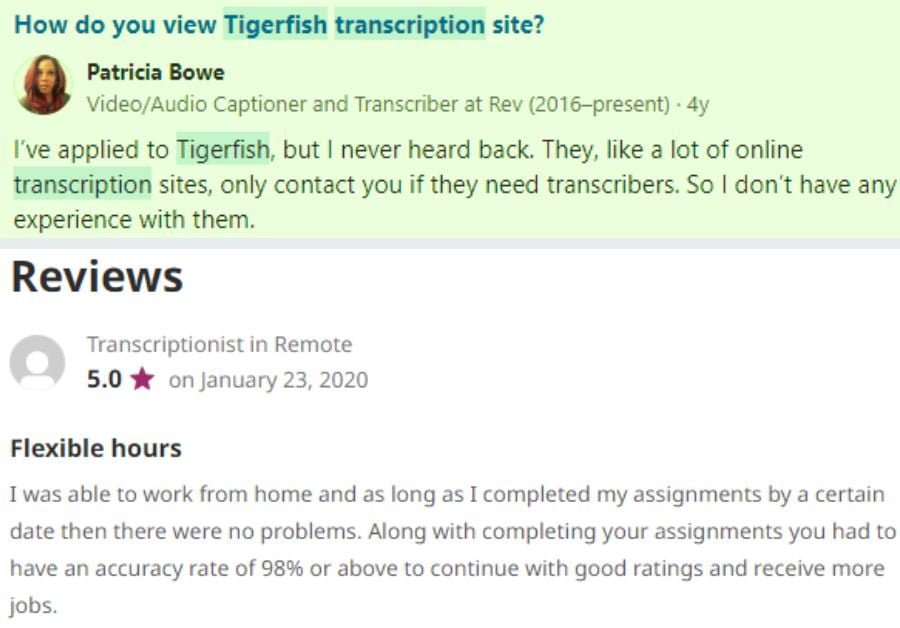 Pros & Cons
Let's take a closer look to see if the benefits of working for Tigerfish Transcription stack up against the drawbacks.
Tigerfish Pros:
Flexible work schedule
Supportive team
It is a reputable company
Long-term work opportunity
Tigerfish Cons:
The high workload at times
High start-up cost; you need to purchase a piece of software to work with them.
Audio quality can be poor
Pay rates may be low
The transcription software only works on Windows
No clear information on pay rates
Tigerfish Transcription Alternatives
If you're looking for other transcription companies to work for, here are some alternatives to Tigerfish Transcription:

TranscribeMe offers transcription jobs, and you can earn $15-$22 per audio hour transcribed. This company hires worldwide, so anyone can apply regardless of where they reside.
The company is a good fit for beginners since work is divided into 2 to 4-minute short audio clips and has a lot of educational materials. To work for TranscribeMe, you must pass the entrance exam and have an active PayPal account.
TranscribeMe pays out weekly through PayPal for as long as your balance is at least $10.
Check out our full TranscribeMe review.
2. Scribie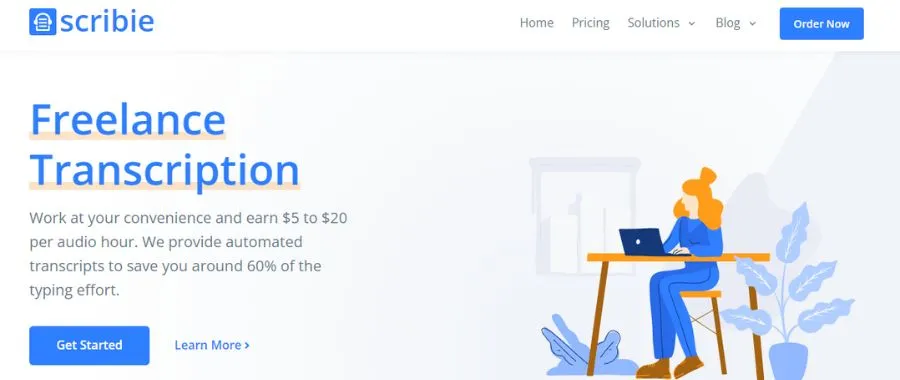 Scribie is a great alternative for beginners since most of the transcription work is done with the help of AI. The company pays between $5 and $20 per hour.
You don't need prior experience to work for Scribie, all you need is the ability to identify mistakes and a good knowledge of the English language.
As a novice, you might expect to earn roughly $400 monthly. You must have a PayPal account to get your earnings, and you can withdraw your earnings at any moment.
3. Rev
Rev is one of the top transcription companies with clients ranging from individuals to established companies & institutions like CBS, Microsoft, and Yale University.
Rev offers transcription and captioning jobs, and you can expect to make around $0.30 to $1.10 per audio/video minute.
People with transcription experience can apply to work for Rev. They also accept applications from beginners for as long as they can pass the transcription test. Transcriptionists are paid weekly through PayPal.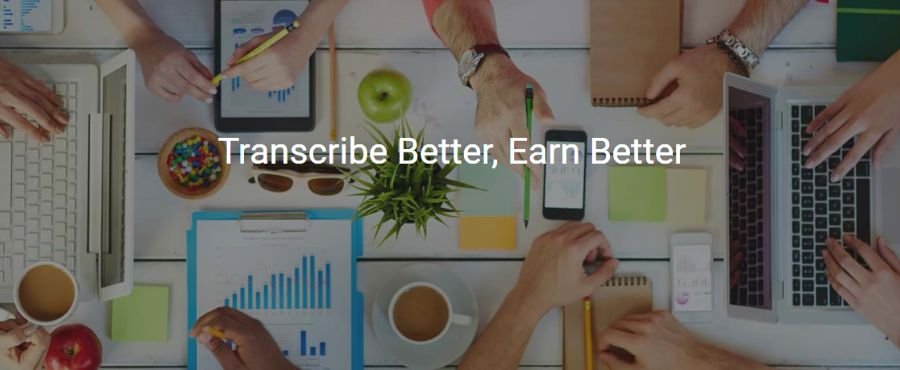 This is an American transcription company that aims to provide high-quality transcription services to clients in a variety of sectors.
GMR Transcription pays between $1000 and $3000 per month. To work for this company, you must be an American citizen with a typing speed of at least 50 words per minute. This is a wonderful company to work for, especially if you have some transcription expertise. Transcriptionists are paid via PayPal or bank deposit.
Check out our full GMR Transcription review.
CastingWords has been in existence since 2005. They offer transcription and captioning services to various industries and are always looking for transcribers to work with.
CastingWords offers transcription jobs that give the freedom to work as much or little as one may like. They pay between 8.5 cents and one dollar, and you need a PayPal account to get paid.
Check out our full CastingWords review.
6. GoTranscript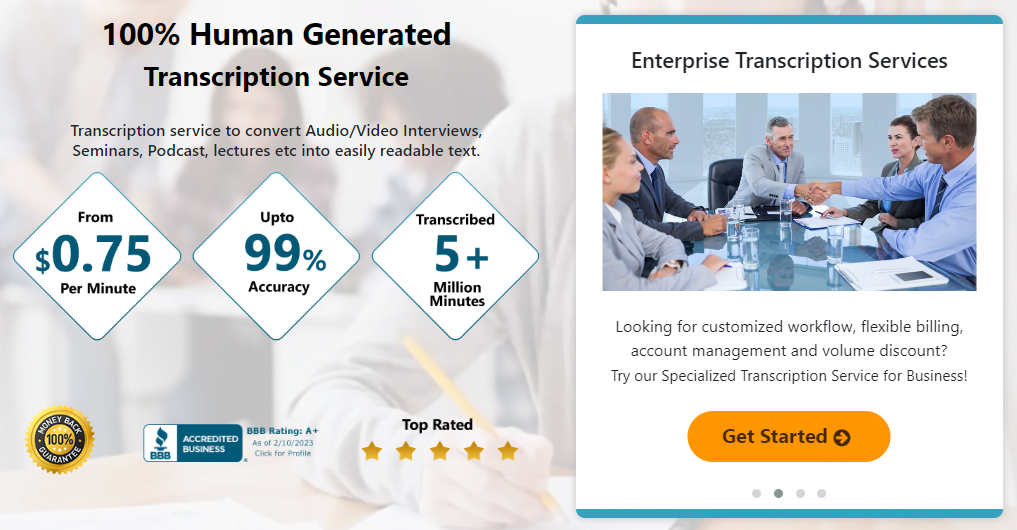 GoTranscript hires transcriptionists all over the world, and anyone, with or without transcription experience, is welcome to apply.
The typical transcriptionist on GoTranscript earns roughly $150 per month, with top earners earning over $1215. They make weekly payments via PayPal and Payoneer.
7. Way With Words
Way With Words is an excellent place to start if you are new to transcription jobs. They will train you along the way and pay you more than most transcription companies.
Way With Words pay rates range from $0.45 to $1.73 per audio minute and pays out monthly via PayPal.
Tigerfish Review: Is Tigerfish worth it?
Based on our research, Tigerfish Transcription is a trustworthy company that offers flexible work opportunities and competitive pay rates. Tigerfish, like most transcription companies, is an excellent way to earn money from home.
The main disadvantage of working for Tigerfish Transcription is that you must purchase transcription software, which costs roughly $229. This is a significant commitment, especially if you are unsure whether the organization is a good fit for you.
In my opinion, Tigerfish is not worth it, especially for beginners. There are other transcription companies where you can get started for free. However, if you can afford to buy the transcription software, Tigerfish is worth checking out.
After reviewing several transcription companies, we have come up with a complete guide to transcription jobs. Check it out to discover close to 40 places you can find transcription work.
Is there anything I left out?
Please let me know in the comments section below, and if you have any questions, please do not hesitate to ask.