In today's gig economy, where remote work and flexible earning opportunities are all over the internet, it's hard to find legitimate and reliable ways to earn money.
If you want to make money online, transcription jobs can be a great option. These jobs are done from home and involve converting audio to text. Several companies offer transcription work, and Rev is a popular example you may encounter during your search.
Before we delve into the details, let's answer the core question; Is Rev legit?
Yes, Rev is a legit transcription company that offers transcription work. 
However, establishing the legitimacy of a company necessitates taking into account a number of critical variables. So we'll look into Rev's company background, examine user reviews and feedback, and evaluate its payment reliability and transparency. By doing so, we hope to give you a thorough review of Rev's legitimacy, allowing you to decide whether Rev is right for you.
You may also like:
Top 37 Online Transcription Jobs: 2023 Ultimate Guide

How To Become A Transcriptionist In 2023 (No Experience Needed)
What is Rev?
Rev is a reliable transcription company based in San Francisco, California, that offers transcription and translation services to various industries such as market research, academic research, content creation, and legal documentation.
Since its establishment in 2010, Rev has earned a stellar reputation in the industry by placing a heavy emphasis on accuracy and efficiency.
Whether you're new to transcription or have prior experience, Rev provides a good opportunity to earn money online. With Rev, you can get paid for transcribing audio and video files into written text. Moreover, aside from transcription jobs, Rev also offers captioning and foreign language subtitling jobs.
Is Rev legit?
Yes, Rev Transcription is a legitimate company that pays its freelancers. It offers various job opportunities, such as transcription, captioning, and subtitling, with the flexibility to work remotely and choose your preferred schedule. Whether you want to transcribe audio files, create captions for videos, or add subtitles to content, Rev provides a genuine opportunity to work from anywhere and at your convenience.
Despite negative reviews on sites like Glassdoor and Indeed, Rev is not a scam. Some people have had bad experiences with the company, but this does not mean it is fraudulent.
Rev is transparent about its pay rates and does not make false promises. Unlike scam sites that lure individuals with claims of easy work and high earnings, Rev does not make such guarantees. This shows that Rev is a trustworthy and legitimate company.
Moreover, Rev has been paying its transcriptionists weekly since 2010, which is proof that it is a reliable company. No scam site can sustain paying workers for such a long period.
How much does Rev pay?
If you are looking for a way to make money online by transcribing or captioning audio and video files, Rev is a great option. Let's find out how much money you can earn working for Rev.
Rev pays its freelancers per audio minute and pay rates vary depending on various factors such as the type of job, the complexity of the task, and the freelancer's experience level.
Here's how much you can expect to make on Rev based on the type of service you offer.
Transcriptionist: $0.30- $1.10 per audio minute.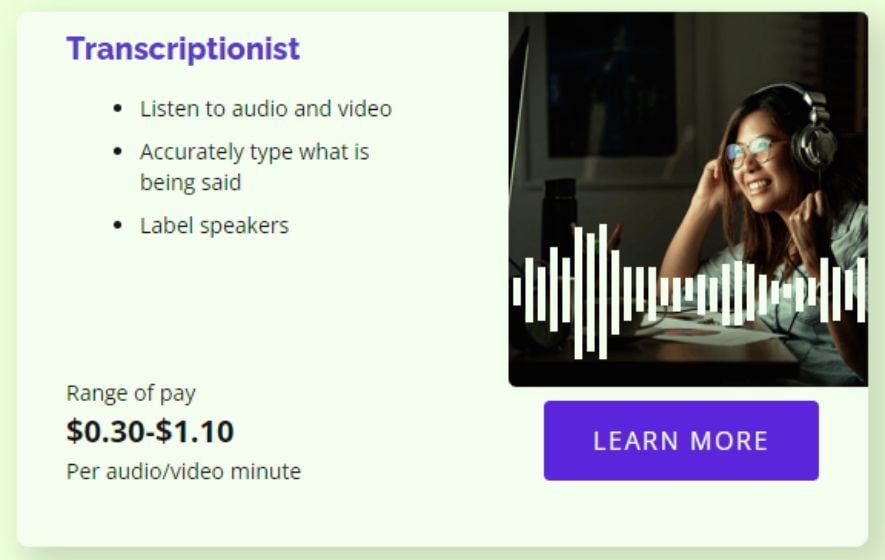 On average transcribers earn around $245 per month, if you are starting out this is the amount you can expect to make. You will be able to earn more as you gain experience. Top Revvers make approximately $1495 monthly on average.
Captioner: $0.54- $1.10 per audio minute.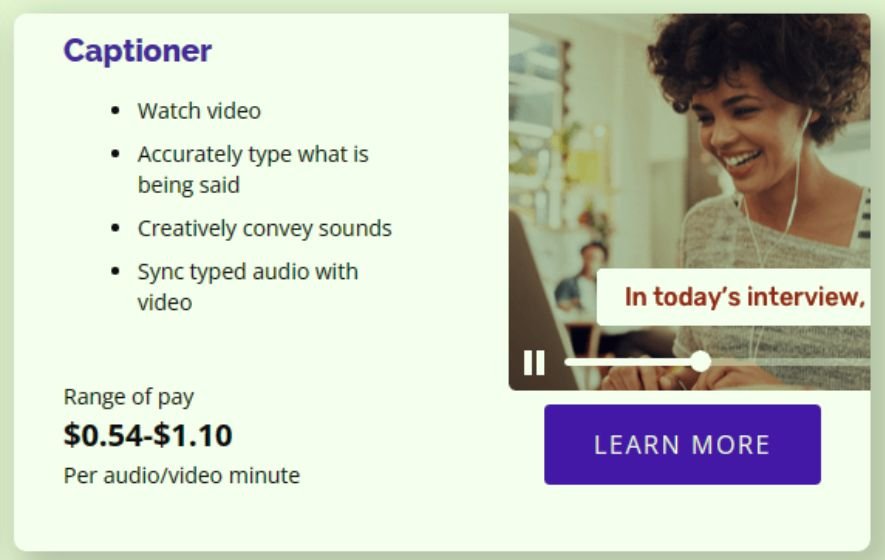 Those just starting as Rev captioners can expect to earn around $240 monthly. As time passes you will gain experience and be able to earn up to $1570 per month.
Subtitler: $1.50- $3 per audio minute.

Rev provides an excellent work-from-home opportunity for individuals proficient in multiple languages. You can earn money by utilizing your language skills as a Rev foreign language subtitler/translator. The pay rate for this role is competitive, offering an average monthly income of approximately $958.
Take note!!!
Rev pays per audio minute, which means you'll only be paid for the length of the audio and not the time you've spent working on it. For instance, if you've spent 5 minutes transcribing a 1-minute audio/video file, you'll only be paid for the 1 minute of audio transcribed. Typically, transcribers take around 4 to 8 times the length of the audio to finish transcribing it. In other words, you may need to spend 4 to 8 hours transcribing a one-hour audio/video file.
Tips to help you earn more
Learn how to type fast & accurately
Gain experience by transcribing regularly
Don't be afraid to take difficult files; the harder the task the more money you earn.
Use high-quality headphones
Always remember to check your work before submitting
How does Rev pay?
Rev pays its transcriptionists via PayPal. Payments are made every Monday for work completed the prior week.
Rev pays its transcriptionists per minute of audio transcribed. The pay rate varies depending on the type of job and your transcription quality. For example, general transcription jobs may pay $0.45 per minute, while captioning jobs may pay $0.60 per minute.
How does Rev work?
Rev is an online platform that connects freelancers with clients seeking transcription, captioning, and subtitling services. Here's how it works:
Clients upload their files: Clients upload their audio or video files to Rev's platform, specifying their requirements and preferences.
Files become Available: These uploaded files become accessible to freelancers registered on Rev. Freelancers can browse through the available tasks and select the ones they are interested in and feel equipped to handle.
Task Completion: Once a freelancer chooses a task, they proceed to work. This involves converting spoken words into written form.
Submission and Review: After completing the task, the freelancer submits their work through the Rev platform. The submitted files then undergo a review process to ensure quality and accuracy. If the work meets the required standards, it is approved for payment.
Payment: Upon approval, freelancers receive compensation for their work.
By facilitating this workflow, Rev enables freelancers to connect with clients in need of transcription, captioning, and subtitling services. The platform ensures a streamlined process where clients can conveniently upload files, freelancers can select tasks, submit their work, and receive payment for approved tasks.
Rev job requirements
Rev does not require prior experience when hiring, so beginners also have an equal chance of getting hired. Even though having experience is not a requirement, Rev expects applicants to have a good understanding of the English language.
In addition to having a good command of the English language, you must meet the following requirements when applying to work for Rev Transcription:
You must be at least 18 years old
Pass a grammar quiz and a transcription test
Have a computer with internet access
Before taking the transcription test with Rev, it is crucial to thoroughly read and understand their transcription guidelines. This is important because, in addition to assessing your English skills, the transcription test also evaluates your understanding of the specific Rev transcription guidelines. Ensuring familiarity with these guidelines will significantly contribute to your success in the test and increase your chances of being hired.
Furthermore, to be hired by Rev, you must be a resident in any of the following countries: Australia, Canada, Ireland, Mexico, Netherlands, New Zealand, South Africa, the United Kingdom, and the United States.

Rev does not hire in your country? No worries! There are alternatives, and we have listed them in our ultimate guide to transcription jobs. Discover nearly 40 places where you can find transcription work.
Rev has few requirements beyond what I mentioned earlier. However, if you want to increase your chances of getting hired, it's important to have basic transcription skills. This includes being a good listener and having fast and accurate typing abilities. Keep in mind that Rev receives numerous applications, so having these skills will help you stand out.
How to get started
Getting started on Rev is straightforward. Follow these steps if you are interested in working for Rev:
1. Registration
To apply for jobs at Rev, go to Rev's freelancer page. There, you'll find various roles open for application, such as transcriptionists, captioners, subtitlers, and translators. Choose the position that interests you and create an account.
To register, you must provide your email address, choose a password, and agree to Rev's terms and conditions. Alternatively, you can also sign up using your Google account.
After creating your account, you'll be prompted to complete your profile by filling in necessary details like personal information, skills, and relevant experience.
2. Take the grammar quiz and transcription test
Rev offers a grammar quiz and a transcription sample to assess your grammar and transcription skills. The grammar quiz tests your knowledge of grammar and punctuation, while the transcription sample requires you to transcribe a short audio clip. Doing well on these assessments will increase your chances of being approved as a Rev transcriptionist.
3. Wait for approval
Once you've submitted your test, you'll need to wait for Rev to review your application. The exact time it takes for Rev to review applications is not specified, so it requires some patience.
4. Start working
Upon approval of your application, you can begin working on available jobs. To start working, visit the "Find Work" page on the Rev website. When you come across a job that interests you, claim it. After claiming a job, you'll have a specific timeframe to complete it. Once you've finished working, submit your transcript for review. If your transcript meets Rev's standards and is approved, you'll receive payment for your work.
5. Get paid 
Once your submitted work is reviewed and approved, you will get paid.
Pros and Cons of Working for Rev?
Being aware of the benefits and drawbacks of working for Rev will help you make an informed decision about working for Rev. The table below is a comparison of the pros and cons of working for Rev.
| | |
| --- | --- |
| Pros | Cons |
| Flexibility | Low pay |
| Good income potential | Lack of work at times |
| Learning opportunity | Strict quality standards & deadlines |
| Opportunity to work on various kinds of jobs | Work can be repetitive & boring |
| Weekly & Quick payments | No work benefits |
Is Rev legit: Final Thoughts
Rev is a legit company that offers transcription, captioning, and subtitling services to individuals and businesses in various industries.
For freelancers, Rev provides an excellent opportunity to make money from home. They offer transcription, captioning, subtitling, and translation jobs that come with the flexibility to work from anywhere and set your own schedule.
Rev Transcription pays its freelancers per audio/video minute and rates vary depending on the type of work, how urgent the client wants the work done, and the experience level of the freelancer. Payments are made weekly through PayPal for the work completed the prior week.
Even though Rev is a legitimate company, pay rates are slightly low and you may find transcription work repetitive and monotonous.
In conclusion, I would like to state that Rev is a good company and does provide an excellent opportunity to make money online. So if you are interested in transcription jobs, I encourage trying Rev out.
Check out this article to discover 19 legit ways to earn money online without investment.
Is there anything I missed? Let me know in the comment section below and if you have any questions, don't hesitate to ask.