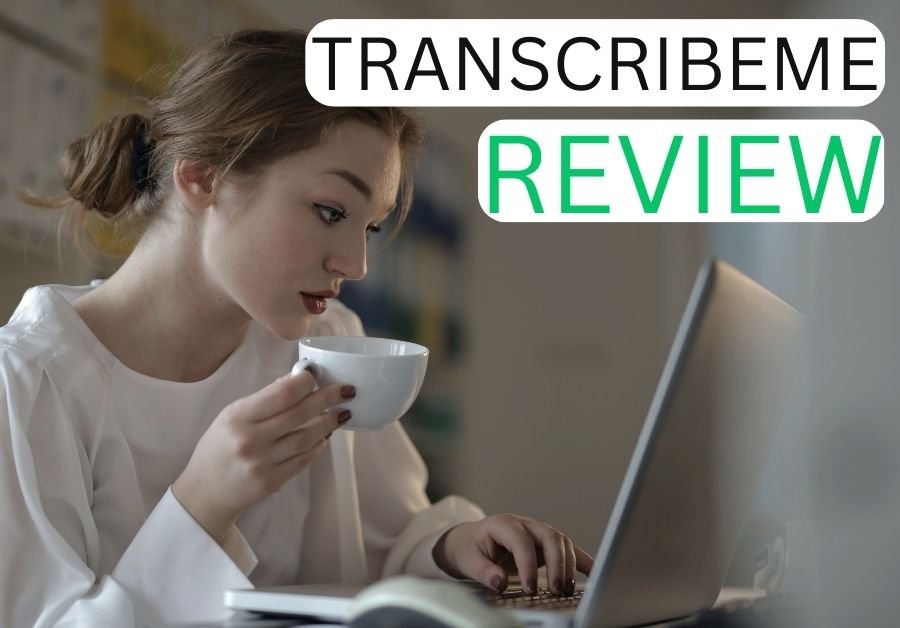 Transcription jobs offer an excellent opportunity for anyone looking to work from home to earn money online. There are many companies that offer remote transcription jobs; TranscribeMe is just one good example. In this TranscribeMe review, you will learn almost everything about how TranscribeMe works and how to get started.
Before we get into the meat of the review, let me explain what transcription jobs are. If you already know, feel free to skip to the section that interests you the most.
Transcription jobs are jobs where you are paid to convert audio into text. These jobs involve carefully listening to audio recordings and then typing what is said. Audio recordings may be recorded phone calls, Zoom calls, meetings, YouTube videos, podcasts, court proceedings, medical recordings, etc.
Even though transcription jobs mainly require the ability to listen and type, there are a few other skills you must have to succeed. Transcription is certainly not hard but requires having the right skills.
You will learn transcription skills as you go, but if you want to cut your learning time in half, I recommend the Transcribe Anywhere comprehensive transcription course.
You may also like:
How To Become A Transcriptionist In 2023 (No Experience Needed)
What is TranscribeMe all about?
TranscribeMe is a company that provides speech-to-text transcription services to different industries such as media, education, legal, medical, and market research. The transcripts are either AI or human-generated.
Besides transcription services, TranscribeMe also offers translation services in about 15 different languages.
Since you're looking for a way to make money online, I'd like to let you know that TranscribeMe hires remote transcriptionists from all over the world remotely.
Is TranscribeMe legit?
TranscribeMe is a legit company that pays transcribers for converting audio/video recordings into text. It is a great company to work for if you are interested in working from home. You can work from anywhere provided that you have a computer with internet access.
TranscribMe is a legitimate transcription company; in fact, approximately 65% of those who have worked for this company say they would gladly recommend TranscribeMe to a friend.
The flexibility that comes with working with TranscribeMe is what most people like about the company. One user wrote:
Despite the fact that TranscribeMe is a legitimate company to work for, it is not without flaws. The most common problem people encounter is entrance exams being difficult. As one user puts it:
TranscribeMe Pay Rates
TranscribeMe pay rates start at $15 per audio hour for beginners.
After completing several projects and taking a few extra exams, you will eventually start working on special projects that pay higher rates. For instance, you need to complete at least 150 jobs and take medical transcription exam to join the medical transcription team. Some special teams pay as much as $70 per audio hour.
Please keep in mind that TranscribeMe only pays for the work completed, not the time it takes you to complete the work. For example, regardless of how long it takes to transcribe a 4-minute audio file, you will earn $1.
How much does TranscribeMe pay per minute?
TranscribeMe pays anywhere between $0.25 to $1.2 per minute. General transcriptionists who have just joined will make around $0.25 per minute and experienced transcriptionists working on special teams can earn up to $1.2 per minute.
Not that TranscribeMe jobs are divided into 2-4 minute audio clips; so the minimum you can make per project is $0.50 for completing a 2-minute-long audio file.
How much does TranscribeMe pay per hour?
TranscribeMe clearly states on its site that pay rates range from 15 to 22 dollars per hour for beginners and 60 to 70 dollars for those working on special teams.
Please you should note that even though these rates are true, the money you will make depends on how faster you are as a transcriber. For beginners, it can nearly take them 8 hours to transcribe one hour of audio. This implies that they would earn only 15 to 22 dollars after working for 8 hours. But if you are fast enough, you can make good money working for TranscribeMe.
How much does TranscribeMe pay a month?
On average transcriptionists make around $250 per month. This is when you spend 2 to 4 hours a day transcribing.
To increase your monthly earning potential, you will have to improve your typing speed and just put in a few extra hours working.
Does TranscribeMe really pay?
Yes, TranscribeMe does pay. You can make anywhere between 15 and 22 dollars an hour. With experience, you can work on special teams that pay as much as 70 dollars per hour.
TranscribeMe pays out weekly via PayPal. You can request a withdrawal to your PayPal account once your balance reaches at least $10. Payments are made on Thursdays.
How do I get paid on TranscribeMe?
TranscribeMe pays via PayPal on a weekly basis.
To get paid, you must complete work by going to TranscribeMe WorkHub and selecting from a variety of jobs. When you complete a job, your earned amount is added to your pending balance.
Once your balance is at least $10, you can request a payment. To request a withdrawal, go to your work history by clicking on the earned dollar amount at the top of your TranscribeMe WorkHub account, then click the Withdraw Funds button.
TranscribeMe job requirements
Unlike most transcription companies, TranscribeMe does not have a lot of requirements such as a minimum typing speed, country of residence, or being a native English speaker to work with them. However, in order to work for TranscribeMe, you must meet the following requirements:
You must have an active PayPal account to receive payments
Be of legal age (at least 18 years)
Have access to a computer with a good internet connection
You are required to pass the entrance exam
You may also be required to submit your photo ID to verify your identity
Equipment requirements
Since TranscribeMe has its own built-in transcription tool you do not need any special transcription equipment to work with them. You only need the following basic things:
Computer/laptop
Headphones or earbuds
You may also need to use a foot pedal, but it's not necessary
Other requirements
TranscribeMe requires that you do at least one job in the last 30 days.
You are supposed not to be inactive 60 times the time the job you are working on. For example, if you are working on a 1-minute file, you can work on it as long as you can, but you are not allowed to be offline for more than 60 minutes while working on it.
You are also required to do good-quality work. All your work will be reviewed upon submission.
How does TranscribeMe work?
TranscribeMe hires transcriptionists on a freelance basis and all work is done remotely. To work for TranscribeMe you need to fill out the application form and take entrance exams. Once your application is approved, you can work on any job on TranscribeMe WorkHub and you will get paid every time you complete a job.
To start working and earning money on TranscribeMe, you need to take the following steps:
Create a TranscribeMe account and link it with your PayPal account.
Take and pass the entrance exams to qualify for work.
Log into your TranscribeMe WorkHub account to access work. When you finish a job, your pending balance will be updated; however, this may take some time.
Request a withdrawal once you have earned a minimum of $10.
That's all. You will receive the payment on Thursdays.
How to pass the TranscribeMe exam and get a job
To work with TranscribeMe you must pass the entrance exams. This exam consists of three sections as stated below:
Section 1:
This section involves answering three sample sentences based on their transcription guidelines. This section is easy because you can easily refer to the guidelines when answering this section.
Section 2:
In this section, you will answer 10 questions. These are a combination of multiple-choice and short-answer questions. The questions are designed to assess your comprehension of the TranscribeMe formatting guidelines.
Section 3:
This is the last section where you have to transcribe three separate audio files. You will be given clear instructions on how to transcribe these files; make sure you strictly follow them.
I have just shown what the test is all about, what about how to pass it?
To pass the TranscribeMe exam
Make sure to read and understand both the TranscribeMe Style Guide and the English entrance exam instructions. You can download and read these two documents before attempting the exams. You can download them here.
Passing the exam does not require prior transcription experience, but requires a solid understanding of English punctuation. Even putting a comma in the wrong place can cause you to fail the exam. So make sure you understand punctuation.
The most important thing to remember is that following instructions is key to passing the TranscribeMe exam.
I found the following two videos, which I can say have done a good job of explaining how to pass the exam. And there are even other videos on YouTube that show TranscribeMe exam answers. However, take note that TranscribeMe does not use the same exam questions over and over, it's always changing.
Tess shows step by step how she passed the TranscribeMe exam in the video below.
And here is another great video on the TranscribeMe exam by Jennifer
Take note that you only have two attempts to try the exam. You have two attempts to try each section as well. If you fail in both attempts you can try the exam again after 30 days.
Upon passing the exam you will be eligible to work on TranscribeMe. That's how you become a TranscribeMe remote transcriptionist.
TranscribeMe Review: Pros & Cons
Before you commit to working for TranscribeMe, you should be aware of the benefits and drawbacks of doing so.
Pros
Flexibility to work whenever and however much you want
Pays weekly
Pays through PayPal
Short audio files; 2 to 4-minute audio clips
Higher earning potential in comparison to others
Cons
Hard to pass the entrance exam
Low hourly pay rate
Sometimes there may be no work
TranscribeMe Reviews & Complaints
While researching for this article, I came across many reviews of people who work for or have worked for TranscribeMe in the past.
In general, TranscribeMe is a good company to work for. It actually maintains a 3.6-star rating on most job and company rating sites.
I did not edit any of the following reviews; I hope they will assist you in making your decision.
Check out all Indeed reviews
Check out all Glassdoor reviews
Positive Reviews
"I get to work from anywhere with a secure internet connection which means I can work from home as well as being able to take my job with me when my husband and I travel."
"Flexibility is nice. Work when you want to. Pay is not great, although it does get better if you take exams and get onto different teams and QA. The extra pocket change is all I really needed, so it was good for that."
"People are helpful, kind, caring"
Negative Reviews
"They survive as sort of a digital sweatshop and by getting by on a loophole that their employees are contractors. $3 per hour is not an exaggeration of what a highly skilled person might make without special equipment. My highest pay ever was approximately 5-6$ hourly with less regard to quality. I type faster than most, and have a master's degree. Work is also not consistently available, and to make even $5/hour, many hours of unpaid testing are required. Customers and potential employees, steer clear!"
"You have to take exams to advance and get on specialty teams to make more money."
TranscribeMe alternatives
Are you still interested in online transcription jobs but looking for something other than TranscribeMe? Or just want some other companies to compare TranscribeMe with? Here are the best TranscribeMe alternatives offering online transcription work:
Rev

Rev is a reputable transcription company having a customer base of more than 750 000 customers. In addition to transcription services, Rev offers English closed captions and translation services as well.
Interested in working for Rev?
Rev pays between $0.30 and $1.10 per audio/video minute. You can also earn anywhere from $1.5 to $3 to translate one minute of audio/video.
They don't require any prior experience to work with them; all you have to do is pass their test. The evaluation consists of a grammar quiz and a transcription test.
Payments are made weekly on Mondays.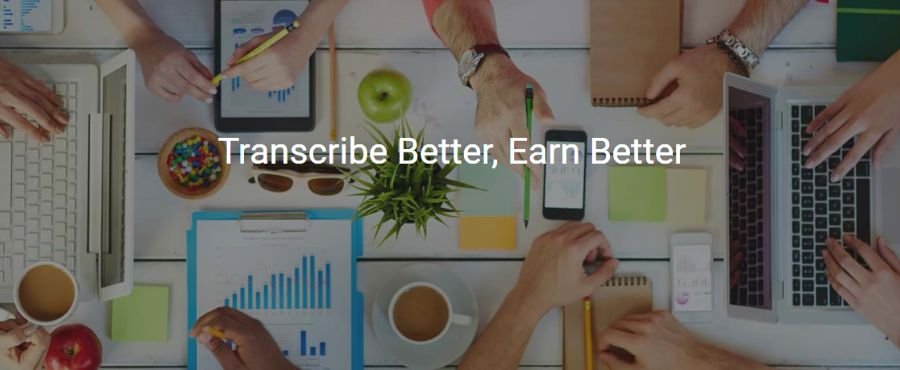 GMR Transcription is an American transcription company based in California.
Interested in working for GMR Transcription?
This company states that its transcriptionists typically make between $1000 and $3000 monthly. The amount you make may differ depending on your experience, project difficulty level, and turnaround times.
To work for GMR Transcription, you must be an American resident, have a typing speed of at least 50 words per minute, and pass a transcription test.
GMR Transcription pays its transcriptionists monthly through a direct deposit or PayPal.
Check out our GMR Transcription review here.
GoTranscript
GoTranscript is very similar to TranscribeMe in that it hires from all over the world. Additionally, you don't need to have transcription experience to work with them.
Interested in working for GoTranscript?
The pay rate per audio minute is around $0.60. The average transcriptionist earns $150 per month, with top transcriptionists earning around $1215 per month.
Payments are made weekly through PayPal and Payoneer.
Scribie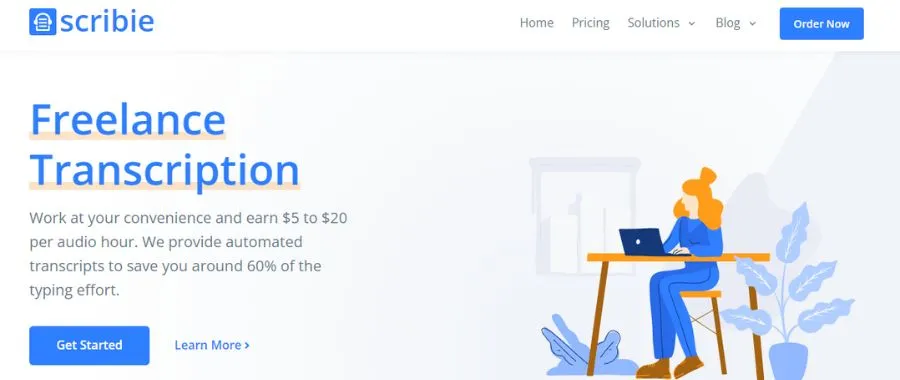 Scribie is an easy company to work with in terms of the process of transcribing. In general, even just getting started is straightforward with this company.
Scribie uses AI to transcribe files; AI handles roughly 60% of the work. As a transcriber, all you have to do is correct the errors and format the transcript.
Interested in working for Scribie?
Scribie pay rates range from $5 to $20 per audio hour. They claim that beginners can make up to $400 per month.
They do not require any prior experience, but you must pass their transcription test to be hired.
Scribie has no payment schedule, meaning that you can withdraw whatever you have earned at any time to your PayPal account.
Way With Words
This is a UK-based transcription company founded in 2002. Way With Words is a great place to start for beginners because they offer a lot of training and educational materials. Their pay rates are decent as well.
Interested in working for Way With Words?
This company pays anywhere from $0.45 to $1.73 per audio minute.
Like most other transcription companies, you must pass the entrance assessment test to work with them. They mainly hire from English-first-language-speaking countries like the US, United Kingdom, Canada, Australia, South Africa, Singapore, New Zealand, Hong Kong, Malaysia, and European Union countries.
Way With Words pays monthly using PayPal.
TranscribeMe Review: Is TranscribeMe worth working for?
For most people, TranscribeMe is an excellent opportunity to make money online.
TranscribeMe provides flexible working hours and the ability to work remotely, which appeals to many people seeking a work-life balance. They also offer a lot of training opportunities which is ideal for beginners.
Additionally, TranscribeMe pays weekly through PayPal and has a very low withdrawal threshold of only $10.
However, it is important to note that the pay for transcription is typically low, and the work can be repetitive and time-consuming. As a result, it may not be the best option for you if you are seeking a high-paying job.
Overall, whether TranscribeMe is worth working for is a matter of personal preference. Before applying, think about your priorities, skills, and expectations.
Final Thoughts
I understand that making money online is difficult, especially if you are just starting out.
TranscribeMe is a transcription company that offers an excellent opportunity to earn money online. It may not be the best option, but in my opinion, it is a worthwhile side hustle to try out.
TranscribeMe is a solid side hustle with reasonable pay rates. However, you can also look into other transcription companies to find the best fit for you. Here is an ultimate guide to transcription jobs, in which I list nearly 40 transcription companies that offer remote work.
Do you have any questions?
Or perhaps you'd like to share your experience with transcription jobs?
Please don't hesitate to write your questions, suggestions, or experiences in the comment box below.