Since 2019 the year I went to university, I have spent hundreds of hours searching for means and ways to earn a few extra dollars to help me cover part of my living expenses. During this time, I have had my fair share of experience with transcription jobs, including legal transcription jobs.
When I first began I had zero experience with transcription jobs nor did I have any legal background. But I think I was at least competent in typing and had a reasonable command of the English language.
I first started with general transcription jobs then slowly started applying for legal and medical transcription jobs. I'll share what I've learned over the years and recommend some of the best legal transcription companies to work for.
Can you type?
Can you pay attention to detail?
Do you know how to use English grammar and punctuation correctly?
If yes, you've come to the right place. Let me show you what you need to know about legal transcription jobs, including how and where to begin.
You may also like:
How To Become A Transcriptionist In 2023 (No Experience Needed)
What is Legal transcription?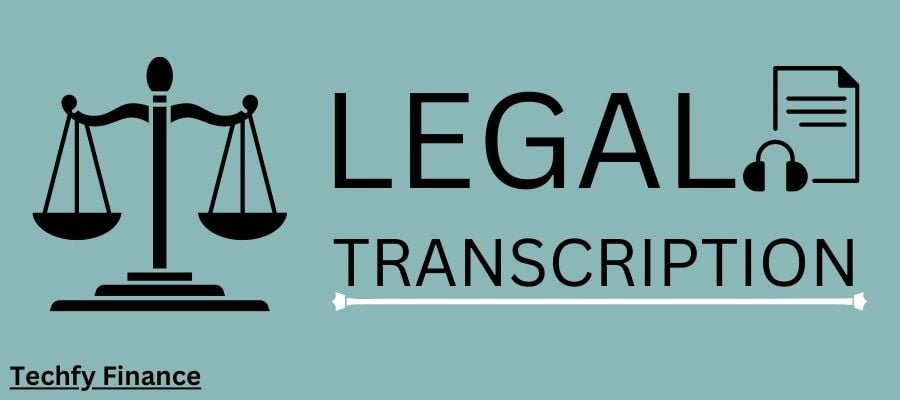 In simple terms, legal transcription is the process of converting important legal audio recordings such as court proceedings, pleadings, legal memos, and depositions into written documents. These documents are stored and can be used for future reference by legal professionals.
A legal transcriptionist is someone who works for a legal firm or transcription company whose main duty is to transcribe legal documents. Nowadays, most legal transcriptionists work remotely. The work process is simple; the law firm or transcription company simply sends legal audio recordings to transcribers, who then transcribe the audio files into written documents and return them to the company. Most companies have websites where transcriptionists can claim work and submit completed work.
Legal transcription jobs require killer typing, proofreading, and computer skills. An excellent understanding of English grammar and punctuation is also necessary, simply because there is no room for error when it comes to legal transcription. The transcript must contain the same information as the legal audio recording from which it was transcribed.
Legal transcriptionist vs court reporter
Both legal transcriptionists and court reporters do the same kind of work. They transcribe words spoken by judges, attorneys, witnesses, jurors, etc. into written text that can be used for future reference.
The key difference between legal transcriptionists and court reporters is where, when, and how they work.
Court reporters often work in courtrooms where they transcribe ongoing court proceedings; this requires a high level of precision. They usually use stenotype machines which enable them to type faster. To become a court reporter you need 2 to 4 years of training and must pass several competency exams.
Legal transcriptionists, on the other hand, transcribe recorded court proceedings into written documents. They can listen to audio recordings over and over to ensure accuracy. Because legal transcriptionists don't transcribe live court proceedings they can work from anywhere and at any time. You only need 6 months to 2 years of training to become a legal transcriptionist; there are even programs that only take 4 months.
How much do legal transcriptionists make?
In the United States, legal transcriptionists make $49,553 per year. However, most remote legal transcription jobs pay around $27 per audio hour.
Making $27 per audio hour does not mean that you will make $27 in one hour. It means that you will earn $27 if you transcribe one hour of audio recordings. So the amount of money you can earn working as a remote legal transcriptionist depends on how fast you are and how much time you are willing to dedicate to doing transcription work.
On average, experienced transcriptionists take 4 hours to transcribe 1 hour of audio recordings, whereas beginners can take up to 8 hours.
Your earning potential will increase as you gain experience. Experienced legal transcriptionists can make as much as $60 per hour. Check and compare legal transcriptionists' salaries over here.
Benefits of legal transcription jobs
There are various benefits to working as a remote transcriptionist. These benefits include flexibility, the ability to work from anywhere, low entry barriers, and skill development.
Legal transcription jobs offer even more benefits in comparison with other transcription jobs. Here are some of the benefits of working as a legal transcriber:
High demand; The demand for legal transcriptionists is huge and because of this, you will not have trouble finding work.
High earning potential; Besides medical transcription jobs, legal transcription jobs are some of the highest-paying transcription jobs. While most transcription jobs pay around $12 per hour, legal transcription jobs pay $27 per hour on average.
Low competition; unlike other types of transcription jobs, not everyone can do legal transcription work. There are requirements that have to be met. Because of this, the competition for getting into legal transcription is low.
Career growth; If you are interested in working in the legal field, starting as a legal transcriptionist might be the best idea. There are so many legal careers, such as legal assistant, paralegal, or legal secretary. Having legal transcription experience can open doors to such careers.
Is legal transcription hard?
Unlike general transcription, legal transcription is not easy. It's not just about typing fast or having excellent computer skills. Legal transcription requires having a good understanding of legal terminologies and killer proofreading skills.
To become a legal transcriptionist, one has to go through training, you are not just going to become one overnight. For entry-level jobs, however, all you need is to be a high school graduate; but you still have to learn a lot as you work.
Working for legal firms or courts requires meeting strict deadlines. This is the reason why most companies will only hire people with experience. So if you have problems with time management and meeting deadlines, legal transcription jobs might not be your thing.
Yes, legal transcription is hard, but acquiring the necessary skills can make it easy. Also, people with a legal background, won't have much trouble becoming legal transcriptionists. If you have a shallow understanding of legal terminologies, even if you have ever transcribed before, you may find legal transcription extremely difficult.
How to become a legal transcriptionist
Being a legal transcriptionist is not only about fast and accurate typing. To work as a legal transcriptionist, you need to have a certificate in legal transcription or in a related field. Most legal firms and transcription companies require certificates from applicants when hiring.
To become a legal transcriptionist:
Learn transcription skills such as fast and accurate typing, proofreading, and research skills.
Get a certificate or an associate degree in legal transcription or a related field. You can get such certifications in just six months by attending a community college or taking an online course.
Apply for transcription jobs to acquire transcription experience. Once you have enough experience, you will be able to apply for and get any legal transcription job.
Even though most legal transcription jobs require certification and experience, not all of them do so. Therefore, becoming a legal transcriptionist without certification or experience is possible. Simply check if there are transcription companies that require no experience or certification hiring and take your chance by applying. If you are lucky to get hired, you will begin working as a legal transcriber.
Best legal transcription courses
There are many resources and online courses to learn transcription online. Unfortunately, there are not that many legal transcription courses, nevertheless, I found one good legal transcription course which should get you going.
Legal transcription: theory and practice course
Transcribe Anywhere offers this course, which will teach you legal transcription from A to Z. Everything you need to know about becoming a legal transcriptionist is covered in this course. It includes video content, tutorials, a ton of practice, how-tos, and community support.
The course will teach you how to find transcription jobs and how to apply. You will also learn how to market your transcription services as an independent contractor and how to set up your own transcription website.
By taking this course it's possible to become a professional legal transcriptionist in about 4 to 6 months. The course costs $579, or you can opt for another payment plan which costs $150 for 4 months.
Other courses to consider
Cost: $995 or $90 per month
This is an 80-hour self-paced online legal transcription course offered by Northern Mine Community College hosted on Ed2go.
This is a comprehensive legal transcription course that you can expect to complete within six months.
Cost: $795
This course will help you learn about the court systems, legal procedures, and terminologies. You will also learn how to format, transcribe, edit, and proofread legal transcripts for correct grammar, punctuation, and word usage.
You can also become a legal transcriptionist by first mastering general transcription and earning some transcription experience. Check out these general transcription courses if you want to take this path.
17 remote legal transcription jobs
1 eScribers

eScribers is a transcription company founded in 2005 that offers reporting and transcription services to courts and government institutions. eScribers is a US-based company with offices in multiple locations across the USA.
eScribers provides remote legal transcription and court reporting jobs. Prior experience or certification are not required. Anyone can apply, but they must pass a grammar test and meet the following requirements:
Have a high school diploma or equivalent
Typing speed of at least 65 WPM
Excellent grammar and punctuation skills
Excellent listening skills
Detail oriented
eScribers hires legal transcriptionists as independent contractors allowing them to work whenever and as little or much as they may want. The work is fully remote, so you can work from the comfort of your home.
The exact pay rate is not stated on the website, but you can expect to get $27 per hour, which is the average pay rate for legal transcriptionists. eScribers pays out on weekly basis via direct deposit.
2 Pioneer Transcription Services
This company provides the opportunity to work from home as a legal transcriptionist. Pioneer Transcription Services does not require any experience or certification; anyone can apply. To apply, visit their website and fill out the application form. If they are interested in your application, they will contact you to inform you of the next steps.
The pay rate is not mentioned on the website but Pioneer Transcription Services states that they pay a fair wage in comparison to other transcription services.
This is a fantastic company to work for. Actually, many people have written positive reviews about the company and its owner.
The payment schedule and methods are not stated. You will be given full information about how everything works once your application is successful.
3 Daily Transcription
With a 4.0 Glassdoor rating, so many people are satisfied working at Daily Transcription. Daily Transcription offers various kinds of transcription services and they hire all kinds of transcriptionists, including legal transcriptionists.
You have to meet the following requirements for your application to be considered; Have a typing speed of at least 50 words per minute, be a US or Canadian resident, and must pass the transcription assessment test.
Daily Transcription pays weekly via check, however, other payment arrangements can be made for those residing outside the US and Canada. They offer competitive pay rates which range from $0.75 to $0.85 per audio minute.
4 SpeakWrite
SpeakWrite transcribes all sorts of legal documents, including legal pleadings, witness testimonies, depositions, meetings, motions and recorded court proceedings.
SpeakWrite offers legal transcription jobs. One must meet the following requirements to apply:
Have a 60 WPM typing speed
Be a US or Canadian resident
Have at least 1-year of experience
Must be fluent in English and have a good understanding of grammar, spelling and punctuation.
SpeakWrite pays $0.005 per word; on average, freelancers make $450 monthly. They pay twice per month through direct deposits and paychecks.
5 E-typist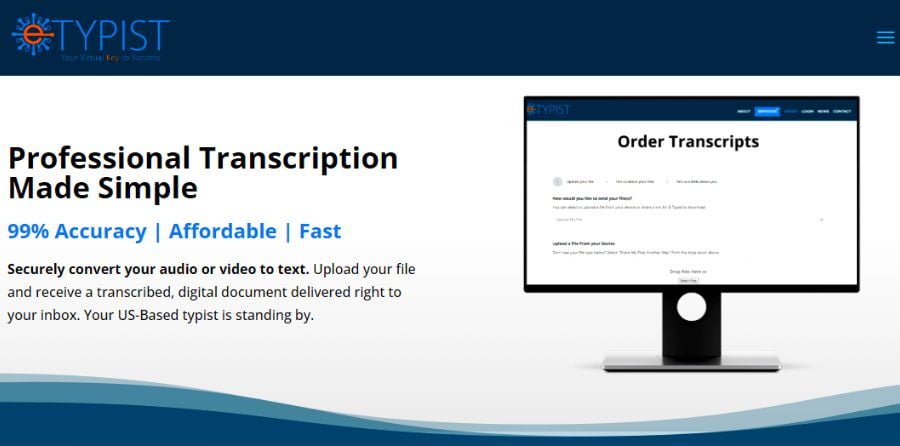 E-typist is a professional legal transcription company with an excellent Trustpilot rating of 4.6.
E-typist offers transcription job opportunities to people who want to work from home. Applicants must have a minimum of 3 years of legal transcription working experience or must have worked in a legal office.
Most people are satisfied working for E-typist but wish the pay rate was a little bit higher.
6 Deposition Services, Inc
This is a court reporting, transcription and video conferencing company that was founded in 1977. The website might seem old-fashioned but Deposition Services, Inc is a legitimate company that offers services to courts and government agencies.
There is not enough information on job requirements and benefits but they hire remote legal transcriptionists. You can fill out the application form on their website to apply.
7 Ditto Transcripts
Ditto Transcripts offers transcription services to various sectors including the medical, legal, financial, and academic sectors.
Ditto Transcripts provides remote legal transcription jobs and to join you must pass the grammar, spelling, and transcription tests.
They offer competitive pay rates that range from $0.8 to $1.10 per audio minute and pay out twice a month via PayPal or direct deposit.
8 Cyberdictate
Cyberdictate is an online transcription company that has been providing legal administrative services since 2004.
Cyberdictate is looking for legal transcriptionists with at least 3 years of experience. You also have to meet the following requirements if you are interested in applying; you must be a US resident, have a typing speed of at least 85 words per minute and be able to work well under pressure and strict deadlines.
This highly-rated transcription company has a 4.9 Trustpilot score and a 4.5 Glassdoor score. GMR Transcription offers all sorts of transcription services including legal transcription services.
GMR Transcription offers online legal transcription jobs. They do not require prior experience, but you must pass the transcription test and have a minimum typing speed of 50 words per minute to be considered for the job.
GMR Transcription pays via PayPal and bank deposit. They claim that you can earn $1000 to $3000 per month.
Check out our full GMR Transcription review.
10 Allegis Transcription
Allegis Transcription is a transcription company that focuses on legal and insurance transcription. They have been providing transcription services since 1996, making them one of the oldest and most trustworthy transcription companies.
Allegis provides an excellent opportunity to work from home. The application is always open, and you can apply by visiting their website and clicking on apply.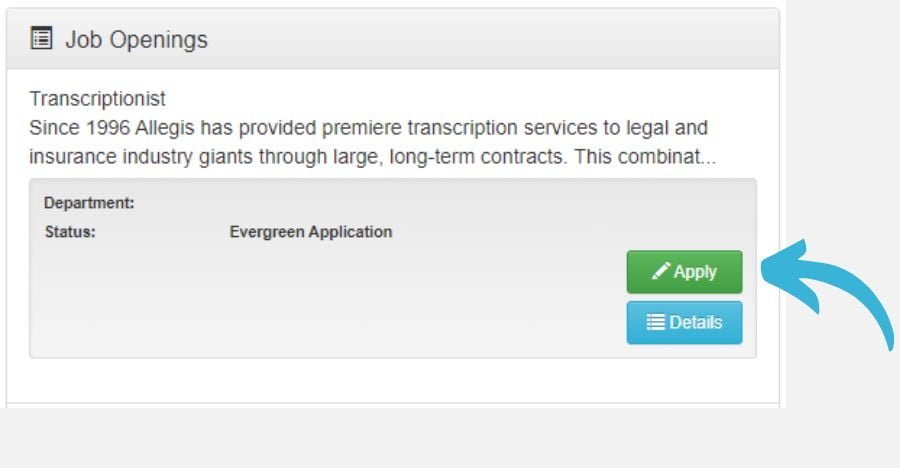 Allegis transcription pay rate ranges from $7.25 to $29.45 and the average pay rate is $16.39 per audio hour. This information is based on data collected by Indeed from people who worked at Allegis.
11 Ubiqus
Ubiqus is a global language service provider that offers transcription, translation, and interpretation services to the legal, medical, and corporate industries.
Ubiqus is seeking qualified transcriptionists, legal transcriptionists included. To apply, you have to fill out the application form on their website. You will also be asked to take a transcription test.
12 Dictate Express
If you are interested in legal transcription jobs, Dictate Express is another alternative you can check out. To be considered for employment, you have to pass several tests when applying. There are four tests: spelling, comma usage, confusing Words, and a 4-minute audio transcription test.
Dictate Express hires transcriptionists as independent contractors and they are paid twice per month through direct deposit.
13 Net Transcripts, Inc

Net Transcripts, Inc is a transcription company that offers transcription services to law enforcement agencies.
Net Transcripts, Inc offers legal transcription jobs, you can visit their website to check if they have an opening.
14 Kendall creek communications
Kendall Creek Communications is a legal staffing firm that specializes in legal transcription. Kendall Creek Communications simply connects clients in need of transcription services with transcriptionists looking for work.
Pay rates range from 1.25 to 2 dollars per double-spaced page, and they pay out weekly on Fridays via direct deposit. To apply, email them your CV, which should include your work history and experience.
15 Simply Hired, Inc
This is a popular website where various companies post job offers. If you are looking for legal transcription jobs, you can find several of them on this Website.
The job offers on Simply Hired, Inc will include information such as pay rates, requirements, benefits, and job descriptions.
To find and apply to legal transcription jobs on this website simply go to the search box and search for legal transcription jobs as shown below.
You will find several job adverts; browse through them to find the job that interests you.
16 Flexjobs
Flexjobs is the best place to find remote jobs. Several companies post job offers on this website whenever they want to hire. Actually, Flexjobs was formed with the purpose of making it easier for people to find remote work.
You can find legal transcription hiring on Flexjobs by simply searching for legal transcription jobs on the website. Go through the search results to find the job that fits you and submit your application.
17 Indeed
Indeed is a global job board where employers post job openings. In addition to job listings, Indeed assists job seekers in gathering information such as pay rates and working conditions of various companies and careers.
To find legal transcription jobs on Indeed, visit indeed.com and search for legal transcription jobs in the search box.
Is legal transcription a good career?
Overall, legal transcription can be a good career choice for those with a strong interest in law and excellent typing and listening skills. However, as with any career, it's critical to do your research and carefully consider whether it's a good fit for your skills, interests, and career goals.
Some benefits of a career in legal transcription include flexibility, the ability to work from home, and high earning potential.
On the other hand, becoming a legal transcriptionist requires specialized training and certification, which can take time and effort to obtain. It's also essential to understand legal terminology and procedures, as accuracy is critical in this field.
So, do you think legal transcription is a good career for you? If yes then I hope some of the legal transcription jobs I have shared will help you get started.
Conclusion
This masterpiece on legal transcription jobs is the result of many years of transcription experience and extensive research.
Besides showing you 17 places to find legal transcription jobs, I share everything you need to know if you are interested in becoming a legal transcriptionist.
If you want to try transcription jobs other than legal transcription jobs, I have written a transcription jobs ultimate guide where I share 37 places to find transcription work. If you're looking for other ways to earn money online, I've written a guide on that as well.