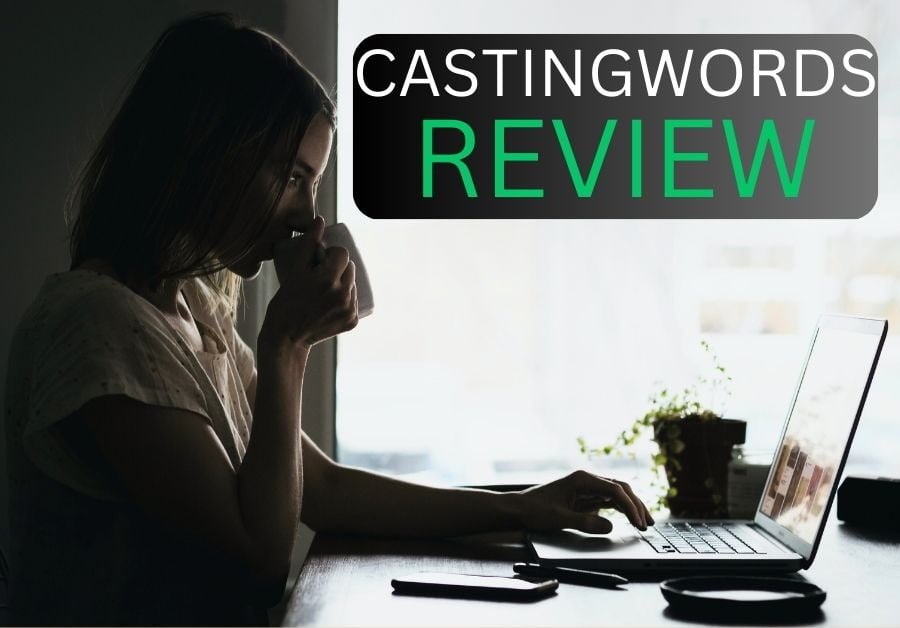 Are you looking for ways to make a few extra bucks on the side? Or perhaps you wish to quit your 9-to-5 job for a more flexible income stream.
Transcription jobs are an excellent way to earn money online. You can work as much or as little, and you have the freedom to work from anywhere. You may choose to work from your bedroom if you like.
When you search for transcription jobs on Google, you will find several companies offering transcription work. Unfortunately, not all transcription companies may be worth your time. In this CastingWords Review, you will find out whether CastingWords transcription jobs are legit and worthwhile.
You may also like:
Top 37 Online Transcription Jobs: 2023 Ultimate Guide

How To Become A Transcriptionist In 2023 (No Experience Needed)
What is CastingWords?
CastingWords is a transcription company that has been in business since 2005. They provide transcription and captioning services to individuals and businesses in various industries, including law, medicine, education, and entertainment.
CastingWords offers an opportunity for people to make a few bucks on the side. For many years, they have been hiring freelancers for transcription, captioning, and editorial work. Anyone with a computer and internet access can apply for Castingwords jobs.
Another thing you should know is that CastingWords hires freelancers from practically any country. However, before applying, make sure that PayPal is supported in your country, as this is the only way they pay out.
Is CastingWords legit?
CastingWords is a legit company that has been operating for nearly 20 years. It provides transcription and captioning services and has a good reputation in the industry.
CastingWords provides legitimate work-from-home opportunities to those seeking ways to earn money online. They have a variety of jobs available, including transcribing, captioning, and editing. And pay rates vary according to the sort of work, your level, and the quality of work you produce.
While CastingWords is legitimate, it might not be worth your time. Castingwords' pay rates, like most transcription companies, are relatively low, and you may encounter poor audio quality. As a result, the compensation rate may not equal the effort you have to put it.
However, be rest assured that CastingWords is a legit company that will pay you for every job you complete.
CastingWords pay rates
CastingWords pays a minimum of 8.5 cents on the lower end and around $1 per audio minute on the higher end.
Pay rates vary and depend on the type of work and how urgent the client needs the transcripts. You can make more money by working on more difficult files or just taking up jobs with tight deadlines.
Furthermore, CastingWords features a transcript grading system. Every file you transcribe is graded on a scale of 0 to 9. If your transcript receives a 5, you will be paid the base pay rate. If your work receives a grade of 6 to 9, you will earn more than the base salary, and if your score is less than 5, you will not be compensated.
As you complete tasks, you will earn badges. Your level rises with each badge earned. This opens the door to more jobs and higher pay rates.
CastingWords payout options
CastingWords only supports PayPal as a payout option for freelancers. You must have a verified PayPal account to receive your earnings.
To withdraw your earnings from CastingWords, you must earn at least one dollar. They pay out weekly on Fridays.
How does CastingWords work?
Here's how CastingWords works in a nutshell:
Clients pay CastingWords to transcribe audio/video files. CastingWords then hires freelancers to transcribe those files and pays them a portion of the money paid by clients.
As a freelancer, you must first create an account with CastingWords and get approved to work with them.
Once your account is approved, you will be able to choose what job to work on from the available jobs tab in your account. You can preview the job and see the average pay rate before taking it.
After completing a job, you will have to submit it for review.
During the review process, your transcript is graded using a scale of 0 to 9, with 0 being the worst and 9 being the best. If your transcript is graded 7, you will be paid the average pay rate. If it is between 8 and 9, you will be paid more than the average rate; if it is between 5 and 6, you will be paid less than the usual rate; and if it is less than 4, it will be rejected, and you will not be paid.
If your transcript is graded and accepted, the earned amount will appear in your balance.
Also, note that if you are unable to complete a job you can return it and pick something else you are likely to finish. This is important in maintaining your rating on the platform which will help you get better-paying jobs.
CastingWords jobs
CastingWords offers the following jobs;
Transcription & Captioning jobs
Improving and editing transcripts
Grading (rating) transcripts
Approving transcripts and edits
Job Requirements
You must meet the following requirements to work for CastingWords:
You must be at least 18 years
You must have a verified PayPal account
Live in one of the supported countries
It must be legal for you to work as an independent contractor in your country.
You may also be required to pass a transcription test to be hired.
CastingWords Review: What do others have to say?
Are you wondering what others think about working for CastingWords?
Let's find out.
CastingWords has a 3/5 rating on Glassdoor from 112 reviews and a rating of 3.4/5 from 13 reviews on Indeed. These ratings and reviews are from people who have worked for CastingWords before, so these figures truly reflect what people think of the company.
The reviews are a mixture of both positive and negative reviews.
Here is what most people liked about CastingWords;
The flexibility to work from home.
Payouts are easy and quick.
Good customer support.
Decent pay rates for experienced freelancers.
Great place for learning if you are just starting out.
Other people disliked the company because of;
Low pay rates especially for beginners.
Unavailability of work for beginners.
Difficult working environment.
Pros & Cons
Let's look at the pros and cons of working for Castingwords.
CastingWords Pros
They have an easy application process.
They provide a lot of information on how things work, which makes them ideal for beginners.
Work can be done from anywhere.
Low minimum withdrawal limit of only one dollar.
Hires worldwide.
CastingWords Cons
Low pay rates especially for beginners.
Only offers one payout option; PayPal.
It may take longer for work to be reviewed & approved, sometimes it can take up to 30 days.
How to contact CastingWords Support
To reach CastingWords support you must email them at support@castingwords.com. The only way to get in touch with them is via email, and they are available 24/7.
CastingWords alternatives
If you're looking for an alternative to CastingWords transcription work, you're in luck. Here are 7 other transcription jobs to consider.
1. Scribie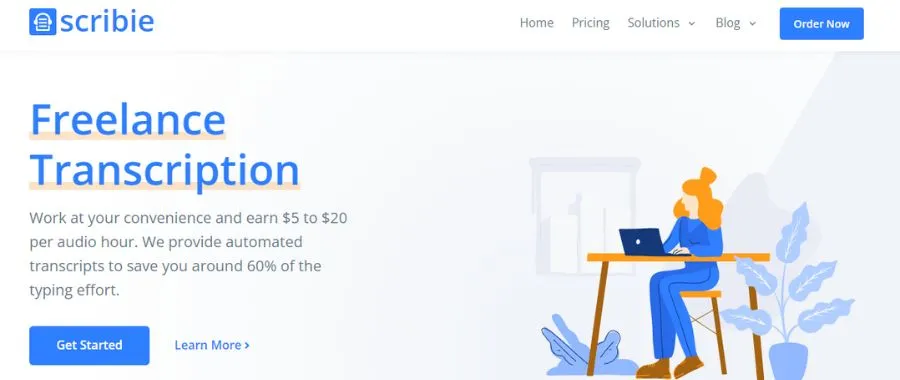 Scribie offers an opportunity for transcriptionists to earn money by editing transcripts rather than transcribing them from scratch. With AI doing the majority of the work, editing is relatively straightforward, making it an excellent option for beginners.
All you need is an excellent mastery of the English language and the ability to spot mistakes. Scribie pays monthly via PayPal, with beginners earning approximately $400 per month.

TranscribeMe is an excellent option for those just starting out in the transcription industry. The sign-up process is straightforward, and the company provides a lot of educational materials to help you get started.
Transcription tasks on this website are separated into short 2 to 4-minute chunks, making them quite easy to finish. Payments are made weekly via PayPal.
Check our full TranscribeMe review.
3. SpeakWrite
SpeakWrite has transcription job opportunities available for US and Canadian residents with at least one year of experience. The company is searching for those who want to make a career out of transcribing rather than merely work as a freelancer.
Payments are made twice a month via direct deposit or checks, with top earners making up to $3400 per month.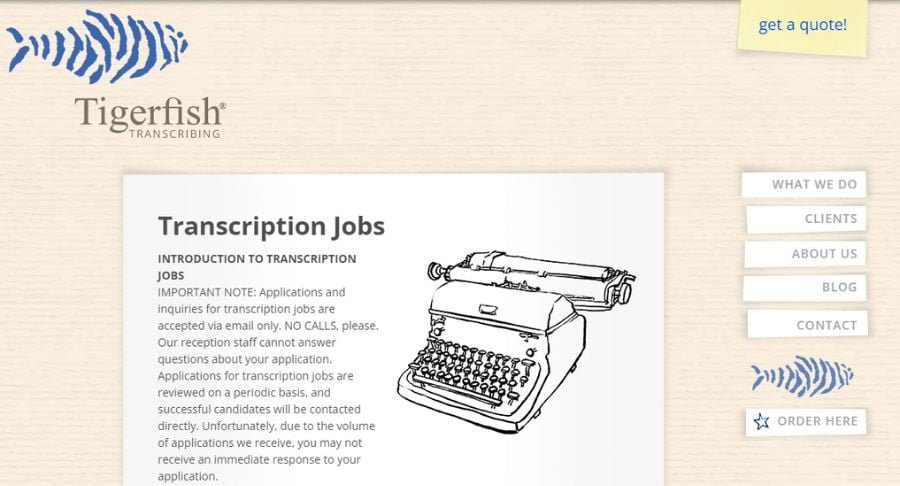 Tigerfish is one of the oldest transcription companies, having been founded in 1989. They hire transcriptionists from time to time, but only accept applicants from the US.
They don't require any prior experience, and all you have to do to get hired is pass their transcription test.
Tigerfish uses a pay-per-line (CPL) payment system, with rates ranging between $0.03 and $0.04 per line. Freelancers are paid weekly via PayPal.
Read our full Tigerfish review.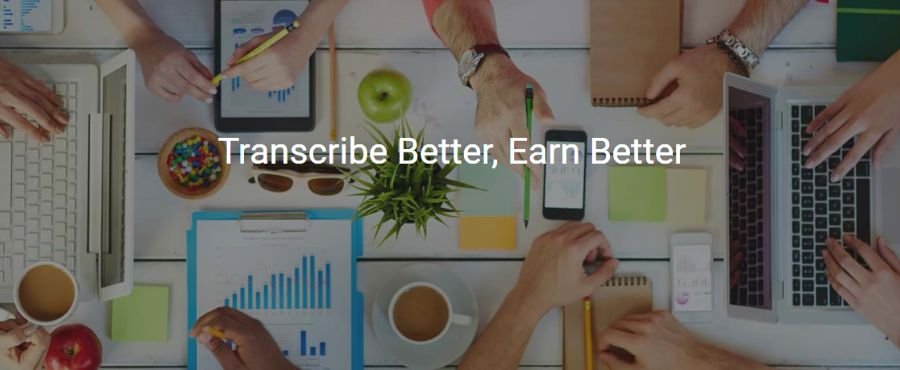 GMR Transcription is a US-based company that offers transcription, translation, editing, and proofreading services to the private and public sectors.
To apply for GMR Transcription jobs, you must have a typing speed of at least 50 words per minute. You must also pass their evaluation, which includes a typing speed test and a transcription test.
They claim to pay between $1000 and $3000 per month. Payments are made directly to your bank account or PayPal account.
Check out our full GMR Transcription review.
6. GoTranscript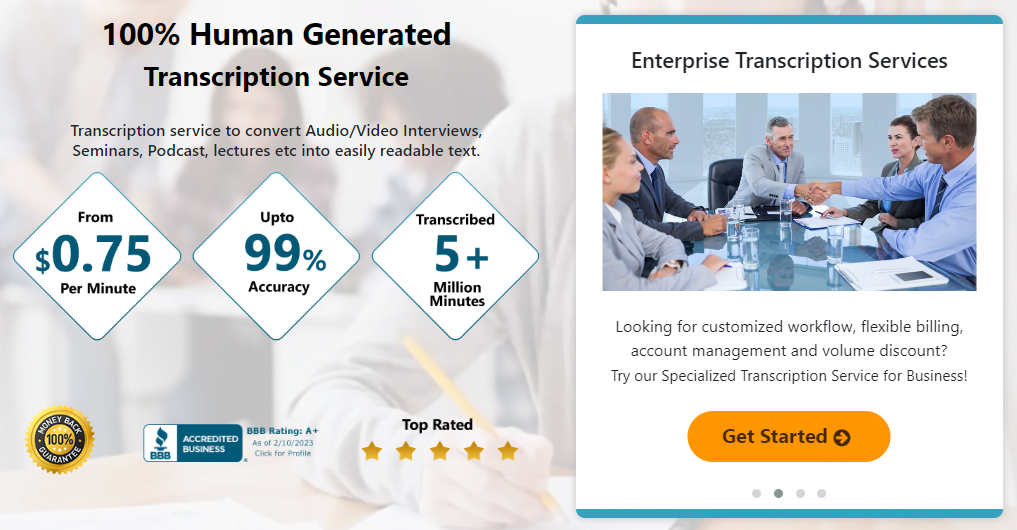 GoTranscript hires transcribers from all over the world and allows you to work from home.
To work for GoTranscript you must pass their transcription test. So many claim that the test is hard to pass because of poor audio quality. To increase your chances of passing ensure to read the transcription guidelines before attempting the test.
Transcriptionists make an average of $150 per month, if you have experience you can earn up to $1215 per month. GoTranscript pays out every Friday via PayPal or Payoneer.
7. Way With Words
Way With Words is a UK-based transcription company with offices in other countries as well. They offer transcription services to various industries and have been in operation since 2002.
They are a good option for beginners because they have no minimum monthly hours of work required, and they will train you along the way.
Way With Words pays between $0.45 to $1.73 per minute and pays out monthly via PayPal.
CastingWords Review: Is it worth it?
CastingWords is a worthwhile company to work for, especially for those with transcription experience. However, beginners can't make much money working for this company.
Whether CastingWords is worth it, it's something you need to decide for yourself. This is because everyone's expectations are different and what may be considered enough money to meet one's needs differs from country to country. So based on this review, you should be able to decide whether CastingWords is worth it for you.
But if it's a question of whether CastingWords is legit?
CastingWords is a legit company that provides online transcription jobs. Despite the fact that pay rates are low, CastingWords is a fantastic way to make money online, especially for individuals with transcription experience.
CastingWords Review: Final Thoughts
There are numerous get-rich-quick schemes on the internet, and you may be wondering if CastingWords is one of them.
CastingWords is not a scam; it is a legitimate firm that provides remote transcription services. It also offers an opportunity for transcriptionists to earn money online.
CastingWords, in my opinion, is not the best place to start if you're new to the transcription industry. Begin with firms such as GoTranscript, GMR Transcription, or TranscribeMe, where you can earn slightly more money.
However, if you are interested in learning and developing your transcription skills as a beginner, CastingWords is an excellent place to start.
After reviewing several transcription companies, I compiled a list of the top 40 transcription companies that offer transcription jobs; you can find these transcription jobs here.
Is there anything I missed?
If so, please let me know in the comments section below, and if you have any questions, don't hesitate to ask.